Film: Love and Friendship
'An Austen who tells us what she really thinks of the world of landed gentry'






'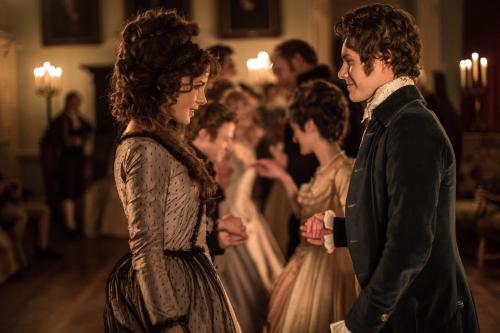 Of course Whit Stillman (the screenwriter behind the dialogue-rich Metropolitan and Damsels in Distress) has made a film based on the works of Jane Austen. The surprising thing is that it has taken 26 years since Metropolitan, his feature film debut (a loose adaptation of Mansfield Park) for him to do so. This is no Joe Wright or Douglas McGrath fairy tale treatment, though. In Love and Friendship, Stillman, as screenwriter/director/producer, gives us an Austen who tells us what she really thinks of the world of landed gentry that her characters inhabit. Or, at least, what the youthful, impetuous, Miss Austen might have thought of it before getting beaten down by life, if we are to take Anne Hathaway's portrayal of her in Becoming Jane as any sort of guide. These thoughts are tart, pungent, sweet; in a word, delicious.
The gasp-inducing dialogue of Love and Friendship should not surprise any who have delighted in the catty asides sprinkled through the Austen literary canon (see, for example, the opening sentence of any of her novels. I particularly enjoy Northanger Abbey). It is perhaps the film treatments, which focus on the story over the narrator's voice, that have led to a view in some circles of Austen as puritan who wants the world to be kept in its natural order. So in some filmed versions of the Austen world, good always triumphs, evil should be punished, and everyone should behave.
In Lady Susan, however, the younger Austen felt no need to administer such punishment or life lessons, and Stillman has left things largely in pure form. The short epistolary novel (probably written in the 1790s, but not published until 1871, after Austen's death) forms the basis of Stillman's movie. When we first meet her, amidst a slew of captions, Lady Susan Vernon (Kate Beckinsale) has been recently widowed. She has been left not so well-off, so relies on her wits and feminine appeal to get by. The first scene sees her leaving the Manwaring house with her daughter Frederica (a charming Morfydd Clark). Lord Manwaring is "divinely attractive", the first subtitle tells us. He has been having relations with Lady Susan, much to his wife's distress. Visiting bachelor Sir James Martin (a wonderful Tom Bennett, rightly praised by Beckinsale and critics alike) is a "bit of a rattle" and has fallen for Frederica, completely against Lady Manwaring's (Jenn Murray) plans.
Susan's refuge is her late husband's brother's house, Churchill. Susan finds it boring, but her brother-in-law (played by Justin Edwards, subtly brilliant as the bumblingly agreeable Charles Vernon) is only too pleased to have her stay. Susan's sister-in-law, Catherine (Emma Greenwell) has other thoughts – particularly when her own brother Reginald (played by Xavier Samuel) starts falling into Susan's snare. Between suitors, liaisons, making sure that she and her daughter are secure, and frequent visits to her friend Alicia Johnson (a "loyalist" from Connecticut, played by Chloe Sevigny), Susan's hands are full for the rest of the film.
As much as the plot's machinations, the tart asides and Susan's defences when caught out are things of beauty. Mr Johnson (Stephen Fry) is "too young to govern, too old to die", Susan tells Alicia. "Facts are horrid things," she tells us in a line that, in another universe, would have received the full approval of Maggie Smith's Dowager Countess of Grantham. Alongside such lines, Stillman's treatment, and the light-touch camera work, the most refreshing thing about Love and Friendship is its reluctance to preach. Even well after The Second World War, cinema made its Susan Vernons pay for their ambition when they flew too close to the sun (think particularly of Joan Crawford in Mildred Pierce). It might be anachronistic to call Lady Susan a feminist novel, but Stillman's treatment undeniably puts the women front-and-centre. With the exception of Fry's Johnson and James Fleet's senior Reginald DeCourcy (look out for the hilarious punctuation scene), the men here are accessories and pawns, regularly confounded by various women's traps.
The woman into whose trap they fall most, of course, is Lady Susan. While I cannot say with confidence that she was born to play this role, I am certain that Beckinsale's time spent among the well-bred simpletons at Oxford was probably the ideal training for the heavy lifting she pulls off so well here. This is a strong female cast generally. Sevigny, Greenwell, Clark, Murray, and Jemma Redgrave (as Lady DeCourcy) all shine, as do Samuel and Bennett of the men. The rest do little wrong. They let Beckinsale, Stillman, and especially Austen do the work for them.
The work they do, by the way, is wonderful, making Love and Friendship one to watch this summer. You'd be daft not to do so soon.