Instagram: Zero Likes Given
As Instagram moves to hide 'likes,' Isobel Duxfield asks what this means for the way we navigate the social media platform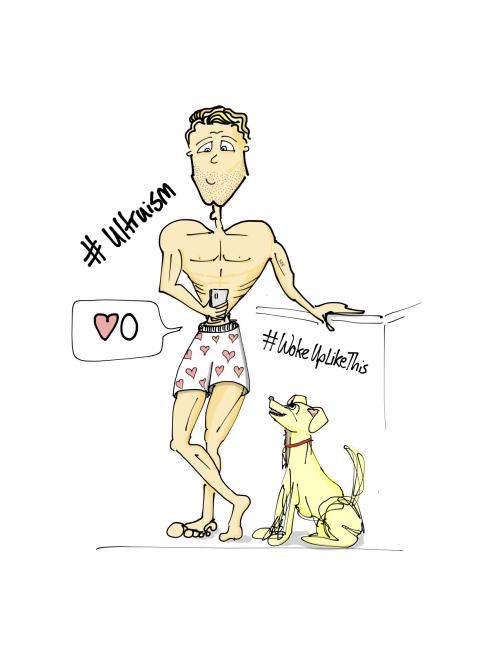 Instagram trades in likes and red heart tallies have been the mainstay of the social media platform since it was launched a decade ago. But what happens when the like count is no longer visible? It appears we are about to find out.
Last April, Instagram's bosses announced they would be hiding the number of likes a post receives. While individual users will still be able to see their total like counts, it will not be publicly visible. The revised format has been trialled in seven countries – including Canada, Australia and Japan – before being extended to some US users in November last year.
The measure comes amidst growing criticism of the effects of social media on wellbeing, particularly amongst young users. "We want Instagram to be a place where people spend more of their energy connecting with the people that they love and the things that they care about," claimed Instagram CEO, Adam Mosseri, as he announced the proposed changes on CBS News.
"...this constant self-censorship has generated devastating anxieties around body image and relationships."
Boasting 1 billion users worldwide, Instagram is a major force in the lives of many young people across the globe, with 72% of US teens claiming to use the site – compared to just half of this for Facebook.
One recent study, #StatusOfMind, ranked Instagram as the most damaging platform for mental health, below YouTube, Facebook and Twitter. "Instagram is very image-focused and it appears to be driving feelings of inadequacy and anxiety in young people," said RSPH Chief Executive, Shirley Cramer CBE.
Cramer's statement is hardly revelatory. Rooted in the perpetual quest for public validation, Instagram fosters a culture of self-censorship, our lived realities concealed behind laboriously staged, heavily edited and wittily captioned images.
Attempts to expose the actualities behind the sepia filter have begun to prompt conversations about the hollowness of Instagram content. The recent craze for "Instagram vs Reality" posts remind us that the platform is a highlights reel and that no one looks perfect all the time. However, this barely makes a dent in the sea of highly curated posts heralding someone's latest holiday, or another trumpeting their recent workout in an awkwardly posed mirror selfie.
Like counts remain a quasi-barometer of social capital. One survey of US millennials revealed at least one third checked for likes within a minute of posting an image, while 60% emphasised their importance when deciding which images to upload.
"Now it appears Instagram is taking an axe to this lucrative user base under the banner of social responsibility."
Many go to astonishing lengths to boost the number of likes their content receives. From following and unfollowing users to comment pods (Instagram users that commit to consistently engaging with each other's content in order to increase impressions and engagement), enhancing engagement is a full-time job for some, and there is no end to blogs offering advice on the subject.
As the boundaries between public and private identities blur, this constant self-censorship has generated devastating anxieties around body image and relationships. Indeed, eating disorders experts at Priory Hospital, Chelmsford, have warned that many of their patients, already in vulnerable conditions, have been heavily affected by social media use.
However, revising the system of 'likes' might not be the perfect answer. Concealing likes may undercut the army of Instagram 'influencers' reinforcing these cultures. Instagram has proved a highly lucrative platform for promoting spurious 'lifestyle' products, and such influencers have long been criticised for propagating unhealthy (and often entirely fabricated) images of body shape, travel and financial stability.
Indeed, Kim Kardashian's advertisement for @flattummyco's "appetite-suppressing" sweets has been described as a "terrible and toxic influence on young girls". Meanwhile, boasting 123 million followers and producing over three million engagements with every post, Kendal Jenner has made a mint hawking everything from weight loss vitamins to workout attire, each image apparently earning her a whopping $1 million.
Such influencers have long benefited from "like momentum" – in short, a higher visible user engagement with their content propels even more double taps. The volume of interaction signalled by like tallies often then determines how much a brand might pay an influencer for advertising their product.
Now it appears Instagram is taking an axe to this lucrative user base under the banner of social responsibility. Declaring, "We will make decisions that hurt the business if they help people's well-being and health," Mosseri seems to have developed a taste for public duty.
Indeed, influencer marketing platform HypeAuditor, revealed influencers saw a 3-15% fall in likes in many areas where hidden likes are being trialled. In Canada alone, over half of creators have seen their likes fall.
However, concealing likes is just another canny business move. Over 200 million Instagram users visit at least one business profile each day; yet, likes are not necessarily an accurate metric for consumer spending and advertisers are wising up to what is concealed behind a thousand crimson hearts. Mosseri is only too aware of this shift, and in obscuring likes, the platform is safeguarding lucrative advertisement deals and forcing brands to rely more heavily on paid-for content.
In addition, we should not forget that Facebook, Instagram's parent company, has made no such commitments to changing engagement patterns, and continues to target 13-year olds with gambling, alcohol and extreme weight loss adverts. Concealment of likes is now making its way to the UK. This could alter the way we interact with Instagram, moving away from a popularity contest towards a more creative circulation of content which celebrates our unique identities and interests. However, like scores are not solely responsible for the spectrum of mental health issues fostered by social media. While this is a good start, it will take a lot more to transform the ways we navigate digital spaces.