Hollywood's Jester: Who's laughing at whom in Ricky Gervais' comedy?
Gervais began his fifth and final time hosting the Golden Globes by reassuring us "remember, they're just jokes". Why aren't we listening?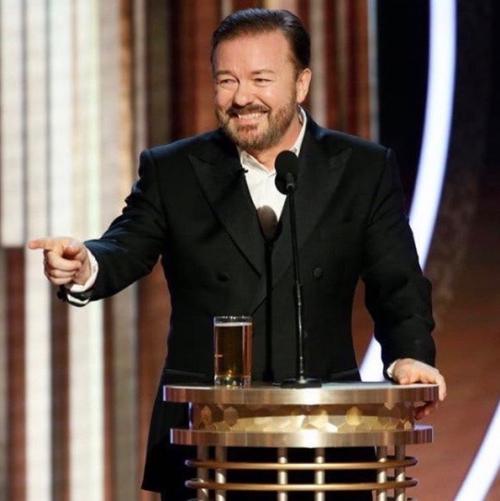 Comedy and satire serve a fundamental role in our society providing indirect means to challenge social convention. The media cycle moves on, but Gervais' jibe at Felicity Huffman's college admission scandal, the allegations against Harvey Weinstein and the death of Jeffrey Epstein reminds us that these stories are ongoing. His suggestion that an 'In Memoriam' section would be unworkable as it would not be diverse enough not only provoked a laugh but also, more significantly, highlighted an aspect of Hollywood's immorality: the underrepresentation of BME actors and directors.
Gervais received particular criticism for arguing that celebrities shouldn't use their acceptance of awards as a "platform to make a political speech". Whilst he argued celebrities are in "no position to lecture the public about anything", he himself used his platform to highlight the moral bankruptcy of Hollywood culture. This 'hypocrisy' is justified because comedy fulfils a role that the media cannot. By taking us outside of our comfort zone and challenging social convention, jokes elicit laughs and, importantly, sell, which is something today's media dreams of doing. Ultimately, journalism is a business. Print media survives on copies bought and its digital counterpart on clicks. Reporting on the complexities of Epstein's trial eventually ceases to provide the grabbing headlines that the media needs to sustain itself, leaving it to comedy to continue public awareness of the issue.
More often than not, it is through testing the limits of issues that comedians achieve this. Gervais made his intention clear when he mocked his Golden Globe audience: "let's have a laugh at your expense." The offence his comments have provoked in the public is perplexing. Too many tabloids and Twitter accounts have praised or criticised Gervais for his "daring" challenges to Hollywood celebrity. What they are forgetting is that this is a job he is not only paid to do, but one which he has been asked to undertake for five years. Those offended by Gervais' comments must be reassured that, as Gervais put it, "the richest and most privileged people in the world," were not hurt by his jokes. They must also recognise that there is a social necessity for comedy and, to borrow from the comedian's tweet defending himself against critics last Thursday, "just because you're offended, doesn't mean you're right."
What is more concerning, though, is the side of the public who believe that Gervais' comments were an affront to, as one Twitter user called them, "pompous Hollywood twats". Gervais argued that Hollywood "know[s] nothing about the real world", but they certainly know enough to pull off an effective PR stunt. Be under no illusion that the darlings of the Hollywood Court only accept this criticism as long as it fulfils their own purposes. Whilst Gervais' statement following the Golden Globes ended "make jokes, not war", the truth is he was hired to create the conflict that has transfixed the media. In a week where 1.5 million acres of Australia is engulfed by bushfire and global diplomacy faces rising tensions between Iran and the US, a comedians' monologue dominated the headlines. The Golden Globes was traditionally a precursor to the Academy Awards, overshadowed by the latter's superior ratings. The arrival of Gervais, the jester to Hollywood's court, gives the audience of the Twitter sphere something to talk about and a chance to throw some rotten tomatoes in the form of hollow comments. The public hasn't engaged with any of the serious issues that Gervais' Golden Globes monologue was highlighting, giving Hollywood all the more reason to play along and leave Gervais as the focus of any criticism, saving their PR teams a great deal of stress.
We are all too eager to see Gervais as a fellow outsider to the Hollywood, forgetting that he is similarly dressed in a tailored designer suit and will be dining with all of them. He himself won a Golden Globe in 2004 for his comedy 'The Office' and while acceptance speech does not hold the same gravitas,. the comedian benefits from playing both parts. He used his monologue as an opportunity to plug his own show, Afterlife, aired on the same service and produced by the same people he was supposedly 'criticising'. He even suggested that people "could binge watch the entire first season of Afterlife instead of watching this show". Gervais' critique of Hollywood for its disassociation from the real world was nothing more than part of his script.
This isn't to say that Gervais' own self-interest means he is a bad comedian. He is a superb jester and his comedy does remind us of the flaws in our culture, long after the papers have moved on. What we must not forget, though, is that whilst the public get to have our laughs, it is Hollywood who will be laughing home, and all the way to the bank.