Calls for divestment should not overlook university ties to arms manufacturing
Isobel Duxfield acknowledges Cambridge colleges' progress in divestment, but argues that we should not forget University's financial ties with the arms trade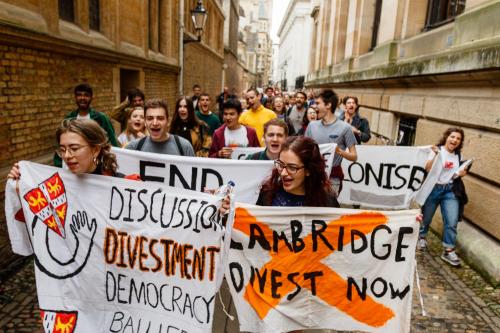 "Divestment" has been a buzzword across UK universities this year. Cambridge, alongside other institutions, has found itself under pressure to divulge its links with fossil fuel giants and repeal investments in multinationals like Shell and BP. Our colleges are falling over themselves to flaunt their new "sustainable" dealings.
However, universities have been less explicit about their financial ties with weapons manufacturers. Last year, it was revealed that Cambridge colleges were investing over £6.5 million in arms companies. Since then, however, we have heard little on this issue. Investigations earlier this month into Cambridge's research ties with the weapons industry prompts the need to re-examine the relationship between higher education and military capital.
The love affair between academia and warfare technology is not new. Military funding has transformed the practice and products of scientific research for over a century, propelling much of the progress in computing, geo-science and biological sciences. Microwave technology, GPS and robotics research have all been embroiled in what has been termed the "military-industrial-academic complex", as university research serves armed conflicts.
Since WWI , the UK's investment in military research and development has escalated, and today a third of the MOD's budget is given over to R&D, over 2% of GDP. As defence spending rises, this relationship is becoming increasingly intimate. Partnering with both state and private military manufacturing, universities– including Cambridge, Oxford and Imperial College London, which, at £15.2 million, receives the most military investment – host multiple projects developing military capacities. 
The scope of this relationship is exposed in the report Study No More War, which examined 26 universities across the UK, uncovering more than 1,900 military projects worth over £725 million.
Our education system must decide how it wishes to participate in this process
This alliance has been augmented by the growing commercialisation of university research. As state funding for engineering has fallen – 46 engineering departments closed between 1994 and 2001 – universities have been encouraged to develop tighter links with industry to maintain streams of income.
This is where military giants like BAE Systems, Rolls Royce and Raytheon step in. Since 2015, fifteen universities with leading engineering departments have pocketed almost £40 million from defence contractors. Cambridge is up there near the top. With almost £7.5 million from Rolls Royce and £1.3 million from BAE, the university received £9.5 million from private arms between 2008 and 2011, far outstripping grants to Oxford.
Our involvement with arms multinationals like BAE and Rolls Royce should be held up to scrutiny. Their humanitarian record is poor at best. With 98% of its sales to military customers, BAE is Europe's largest arms manufacturer, with its weapons systems including Typhoon and Tornado aircraft used in Saudi Arabia's bombing campaign on Yemen, which has targeted civilians "in a widespread and systematic manner," according to the UN. Indeed, Saudi Arabia is one of BAE's most lucrative customers, even when Germany halted weapons exports to the Gulf state, BAE continued its shipments.
Faced with this industry's bloodi ed activities, we should question the role private arms plays in higher education. When BAE partners with Cambridge for a "Service Alliance" –a project aiming to "meet the changing needs of customers", and contributes £30,000 to a University of Portsmouth project on "understanding the moral component of conflict" - it is time we confronted academia's role in supporting military atrocities.
Weapons manufacturers wield influence across the entire education system. Purporting to champion science and technology amongst secondary school students, BAE brings their "roadshow" to 400 schools per year, claiming to "inspire young people from all walks of life to pursue STEM." This initiative has been applauded by ex-Secretary for Education, Alan Johnson. Meanwhile, even more alarmingly, Raytheon (the defence contractor recently awarded $386 million to produce precision guided bombs) runs a drone building competition for school-aged children.
Recent conflicts in Iraq, Afghanistan and Yemen have exposed the devastating potential of modern warfare. As arms spending rises and preemptive security narratives legitimise the repeal of individual freedoms, our education system must decide how it wishes to participate in this process.
Students themselves, particularly in STEM, will also be forced to confront their involvement in military technology. Indeed, a survey of engineering students revealed almost 90% thought they were likely to encounter ethical issues in their future careers. When arms, sponsors engineering programmes, co-runs courses and offers student placements, it is a moral dilemma for us all.
Military funding is an intricate issue (which this short article can only begin to unpick), and is likely to grow more complex in the future. Nonetheless, as national security and anti-terror agendas continue to legitimise horrific acts of violence and repression, the role academia plays in military infrastructure must be held up to public scrutiny.
At present there is a chilling lack of transparency. It is not about simply "divesting" such funding, but questioning how education can construct coalitions for peace, not militarism.