Student activism is as much a product of the institution as it is a critic of it
Cambridge is a playground for the intellectual curiosity from which activism is bred – no wonder it is so central to our University's landscape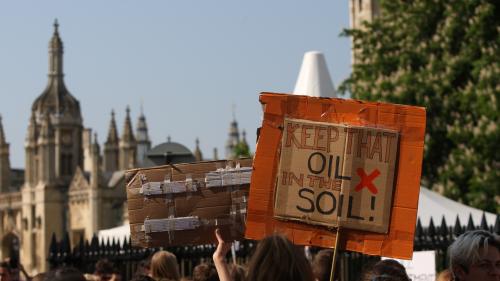 Tradition, hierarchy and structure. These were the themes highlighted by a fellow speaking on a panel this week about the experiences of female academics at my college.
Her observations were not far from both the image and reality of Cambridge. Living here can feel like a step back in time. Henry James described its ancient beauty in his 1883 travel book, writing of "gothic windows and ancient trees, […] grassy banks and mossy balustrades". A summer away draws the peculiarities of this sleepy spot in the Fens into even greater focus.
Yet the escalating campaigns of student organisers makes modern Cambridge out to be anything but dormant. Increasing mobilisation played against a backdrop of Tudor architecture and Victorian rituals seems to serve as a metaphor for the challenges faced by tradition in the 21st century.
"It should be no surprise that a university which prides itself on discovery and innovation also serves as a breeding ground for radical protest"
Modern activism can seem a strange addition to an environment renowned for its candlelit dinners and antique artefacts. At times it is even framed as existing separately from the general student populace, organised by small factions of the student body. We must avoid this tendency to treat organised campaigns as the work of isolated groups, and instead view them as the product of a culture of intellectual questioning. The juxtapositions may be stark, but the prevalence of protest at Cambridge should come as anything but a surprise. Far from being an anomaly in the rich history of this university, challenge and change are as much a part of Cambridge's story as pattern and conformity.
This hasn't always guaranteed peaceful coexistence. There were moments last year when it seemed that traditional structures would never align with more radical student activity, such as during the campaign for the University to divest from fossil fuels. However, this does not mean campaigns facing conflict are anomalies of Cambridge life.
Working at the forefront of academic discovery demands a level of curiosity and confidence not dissimilar to the ethos of activism. As much as the roster of Cambridge's intellectual greats were unafraid to ask questions of their fields, organisers can be recognised in a similar vein. It should be no surprise that a university which prides itself on discovery and innovation also serves as a breeding ground for radical protest.
The roots of dissent are ingrained in Cambridge's history as much as the presence of game-changers like Newton and Hawking. The past one hundred years have shown an increasingly responsive student body to matters of political importance. In November 1968, a large demonstration was held outside the Cambridge Union against visiting speaker Enoch Powell following his 'Rivers of Blood' speech.
That decade also saw the creation of the anti-establishment 'Shilling Paper', and a march on Trinity College by CUSAC against the Dryden Society's planned tour of South Africa. Later years have seen a greater focus on domestic issues – in 1972, there were protests against government plans to reform student unions.
Such mobilisation is not unique to Cambridge, and manifests throughout universities nationwide. During the pension strikes of Lent term, students across the UK occupied university buildings, supported staff on picket lines, organised 'teach-outs' and demanded compensation.
However, it is vital to retain a reflective focus when it comes to student protest so that we can remember how campaigns here have not always fallen on the right side of history. In 1897, male students resisted a resolution that would allow women to receive full degrees. The protest, strikingly punctuated by the maiming and decapitation of an effigy of a stereotypical female student, demonstrates that the history of organisation here is complex - but we cannot face the darker side of our history if we are not talking about this history at all.
Recognising that activists are the natural product of a long-history of challenge and intellectual vigour at Cambridge are two essential steps in granting student organising the respect and legitimacy it merits while also maintaining a clear image of the progress that remains to be done here. Recognising this will inevitably help to quell arguments from those in power that campaigns are anomalies rather than links in a long chain of solidarity. Indeed, normalising campaigning is ultimately what is required to enable lasting change at Cambridge.