Cambridge has turned its back on democracy and morality over divestment
Looking back on the divestment campaign, Mathias Gjesdal-Hammer laments the University's failure to recognise the will of its staff and students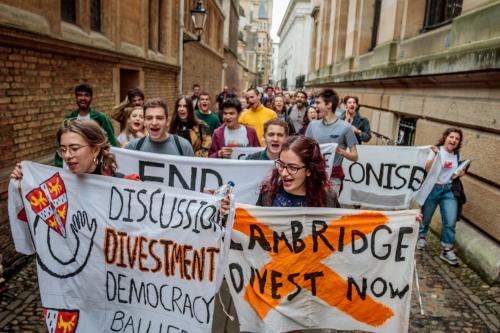 Last Friday, the University of Cambridge announced its decision to maintain investments in funds that hold shares in fossil fuel companies. The decision broadly follows the recommendations of the divestment working group, but rejects its call to commit 10% of the University's endowment to Environmental, Social, and Governance funds.
The University Council disregarded the enormous pressure of student and staff campaigning, as well as the cries of public figures such as Rowan Williams, Noam Chomsky and 16 Members of Parliament, for full divestment. Divestment increasingly seems the way forward; the University has remained unswayed by public opinion.
Having followed the divestment campaign for the past few years, I struggle to fight the feeling that the University has demonstrated an almost calculated disregard for democratic process and public engagement. This feeling hit campaigners hardest: last March, Cambridge Zero Carbon Society's representative on the divestment working group, Alice Guillaume, resigned from the group last March in response to its "anti-democratic and wilfully blind attitude."
It is not an decision that has been taken based on the feasibility of divestment, but rather with an active motive to prioritise profit
The Council's initial decision was delayed with little explanation, while the announcement of their final decision came a week later. As Varsity's photography editor, I have spent hours waiting outside the Old School's offices, waiting for councillors to come out, hoping for a statement and a picture. More often than not, though, the Councillors simply walked off, offering at best the platitudinous remark that they "were unable to comment on the decision". Such incidents serve to taint the whole process with questions concerning management's lack of transparency.
More fundamentally, key questions remain about the University's investments in fossil fuel industries. While the University has already committed to not holding direct investments in fossil fuels, we as students do not have the slightest clue as to the scope of fossil fuel investments in the University's funds. The decision by the Council states that these investments will be kept to a "bare minimum", yet it is difficult to see how such a commitment can be monitored – especially when Council members themselves have been denied information regarding the extent of these investments.
What's more, as an open letter from Cambridge academics points out, the divestment working group conveniently abstained from assessing the amount of University funding donated by fossil fuel companies. Given that the University quite literally has a BP Institute, it seems reasonable to assume that these donations are not unsubstantial.
If the University is leading anything, it is the race towards further destruction
Beyond issues of process, the key reason given by the University Council to reject outright divestment is that "it is inevitable in a diversified and indirectly managed investment portfolio that some exposure may appear in some funds and therefore it is not possible to demand absolute exclusion." This line of argument is insulting at best. The University already excludes all investments in coal and tar sands, so it stands to reason that this ban could be extended to fossil fuel investments altogether. Additionally, more than 60 UK universities have already divested from fossil fuels and the total value of investment funds committed to divesting is $5.2 trillion. Given that funds of a similar size and nature to the University's have successfully divested, the argument that fossil fuel investment is simply "inevitable" is hard to believe. Despite what the University would have us believe, it is not an decision that has been taken based on the feasibility of divestment, but rather with an active motive to prioritise profit.
The fundamental issue at stake here, though, is one of morals. Whether or not divestment is a profitable decision (studies here seem to suggest that the worst-case financial scenario is a marginal reduction in profits, although even this is unclear), climate change is the most significant threat facing the world today. By choosing to maintain fossil fuel investments, the University has chosen to remain complicit in the systematic destruction of the environment. True, this University cannot hope to change this single handedly. Nonetheless, its level of media exposure gives it a platform to denounce and stigmatize fossil fuel companies, inspiring change through example. Vice-Chancellor Stephen Toope may have repeatedly emphasized his ideal of Cambridge University as a "social leader," but this utopic vision is sullied by the Council's decision: if the University is leading anything, it is the race towards further destruction.
While the University's decision will come as a harsh blow to the student activists of Cambridge, there are still positives to be found. In the past year, Zero Carbon has built one of the largest student movements in Cambridge and will no doubt continue to push for divestment. Indeed, it is hard to imagine that the Council would even have been debating divestment in the first place had it not been for their efforts. Moreover, the University has committed to establishing a Centre for a Carbon Neutral Future and hire an "Environmental, Social, and Governance fund officer". This is certainly far less than most students would have hoped for, but is still a small step in the right direction. Even so, the Council's decision has ensured that divestment will continue to be a serious point of contention between the University and its staff and students for many years to come.
The University Council decision, though, is unlikely to be the last we hear on the topic of divestment. When it has taken years of student pressure on the University for for any kind of decision to be made, the unfortunate reality is that it is unlikely that the Council will reconsider its position anytime soon. One change in tactic from Zero Carbon activists might be to target individual colleges, many of which have significant direct investments in fossil fuel companies.
While the University has divested from direct investments in fossil fuels, Peterhouse is the only college to renounce direct fossil fuel investments. Given the smaller size of individual colleges and the clear-cut nature of direct investments, college-level campaigns might well prove successful. But college divestments alone would only be a partial success while the University itself maintains its involvement in the fossil fuel industry. With Durham, Cardiff, Briston, Sussex, Edinburgh and Anglia Ruskin all divesting in the first half of 2018 alone, and over 60 UK universities having divested, it seems unlikely that pressure on the University will ease off. If the Zero Carbon campaign continue to fight for divestment and universities outside continue divesting, it seems inevitable that Cambridge, too, will eventually divest.
Varsity is the independent newspaper for the University of Cambridge, established in its current form in 1947. In order to maintain our editorial independence, our print newspaper and news website receives no funding from the University of Cambridge or its constituent Colleges.
We are therefore almost entirely reliant on advertising for funding and we expect to have a tough few months and years ahead.
In spite of this situation, we are going to look at inventive ways to look at serving our readership with digital content and of course in print too!
Therefore we are asking our readers, if they wish, to make a donation from as little as £1, to help with our running costs. Many thanks, we hope you can help!