The NHS 'winter crisis' won't melt with the snow
Thomas Whitworth argues that increasing borrowing to fund the NHS serves only to disadvantage future generations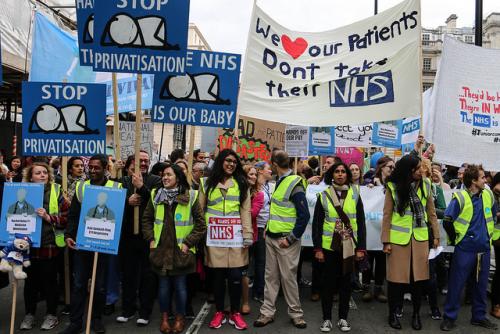 The NHS is in a winter crisis. Except it isn't. The unfortunate truth is that our health service now finds itself on the verge of collapse so regularly that a 'winter crisis' doesn't quite do justice to the pressure the system is under. 'Crisis' is the new NHS normal and this disaster is taking its toll: in January 2018 alone, 50,000 operations were postponed, 11,000 ambulances were 'seriously delayed' outside A&E units and, in one week, hospitals declared full occupancy on over 40 occasions. This time last year, 20 hospitals admitted that patient safety could no longer be assured and buildings were converted to provide extra bed space; in 2015, the three letters 'NHS' appeared alongside such words as 'meltdown' and 'bust' in newspaper headlines eighty times. Need I go on?
This decline has been traumatic to watch. We have all benefitted from access a to free, high quality and, until fairly recently, functioning modern healthcare system. The NHS must rank as our best-loved public service – take the acrimony over the growing 'privatisation' of the health service as proof. It is hardly surprising, then, that a recent poll published by the Huffington Post shows that 54% of British adults would like to see government spending to rise, and 68% want the extra money to go towards supporting the health service. In short, most of us would be happy for the government to borrow more money to lift the NHS out of its dizzying spiral. This is an easy solution to the crisis, but it is the wrong one.
"The coward's choice of deferring the extra cost of today's healthcare on tomorrow's workers would be an arrogant and selfish one"
This is not an issue of practicality. The United Kingdom's sovereign debt currently sits at around £1.8 trillion. Increasing spending on the NHS would be inconsequential compared to the behemoth that is our generation's inheritance. Indeed, the estimated sums required to 'fix' the NHS – the most recent estimate I could find was an extra £30 billion by 2020 – would less than double the budget deficit. With such huge debt already under our belt, such an increase in borrowing seems unlikely to tip us over into the bottomless abyss of financial catastrophe to which so many arguments against raising spending appeal. Nevertheless, borrowing to fund the NHS should be avoided, on a point of principle.
State borrowing should be limited to projects that will benefit future generations – the generations that will have to bear their cost. Improvements to infrastructure are the classic example: thanks to HS2, our children, and hopefully our grandchildren, will have the pleasure of being whisked from Birmingham to London in less time than in takes to watch an episode of Blue Planet. If you're a fan of nationalisation, then borrowing to buy back Royal Mail or other previously state owned assets can be justified too. What is key about these projects is that the taking on of debt to finance this type of expenditure is really a mechanism for spreading the cost across all those whose lives are positively affected by it.
But the NHS is not an infrastructure project. It is a service – it's in the name. Every year, the government allocates it a budget to provide the service it was founded to provide. The problem is that the lives of future generations are not improved by the injuries the NHS is treating now. To borrow money to pay for the millions of operations the NHS performs each year would be to use money our ancestors earned for our own benefit – we would be robbing future taxpayers.
We must accept that if we want to save the NHS, some hard decisions must be made. No one denies that as a service it needs more money but the coward's choice of deferring the extra cost of today's healthcare on tomorrow's workers would be an arrogant and selfish one to make.
There are, I think, three choices: raise taxes, accept further cuts to other areas of public spending or acknowledge that the NHS should not be free to all. Each of these is politically unpalatable, and that makes me fear that our politicians will prove too gutless to produce anything but another patch to bind the ever more ragged-looking NHS over until its next winter crisis.