Doku wins CUSU presidency in landslide
Provisional results reveal 1,000-vote majority, despite a lower turnout than last year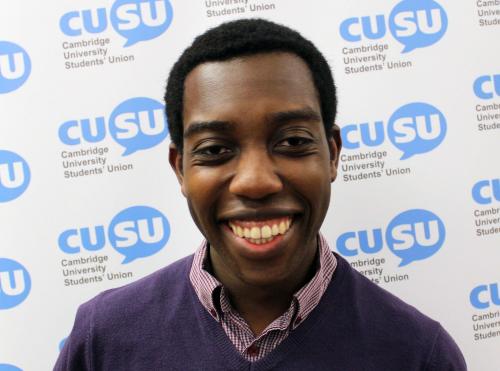 Amatey Doku has won the CUSU presidency by a landslide after a dramatic and controversy-filled electoral contest. Doku was over 1,050 votes ahead of his nearest rival, Angus Satow, according to preliminary results. The 3,415 total votes cast represent a 15.7 per cent turnout across the elections as a whole. This is fewer than last year's election, in which 4,005 ballots were cast.
There were 3,073 votes cast for the role of President: 1,671 for Doku, 615 for Satow, 427 for Cornelius Roemer and 247 for John Sime. 113 voted to re-open the nominations (RON).
"Obviously I'm absolutely delighted to have been given this opportunity," he told Varsity. "It's been such a good campaign, actually getting out and speaking to Cambridge students and finding out what their concerns are. And I hope that forms the basis of the next year.
"I'd like to thank my campaign team. They've worked so hard for this campaign and I'd also like to thank the current CUSU team, because they have done a lot of work in the last year. And I think the most important thing going forward is making sure that the hand-overs are as effective as possible, that we can continue the work they've done. This is about building on what previous years have done. I'm obviously delighted. It's a huge privilege and I'm really looking forward to it."
Doku, an HSPS finalist at Jesus College, campaigned on a promise of "implementing the real reforms that CUSU needs to begin making a difference". He placed a focus upon increasing transparency within the university, in particular with regards to the "unaccountable" Bursars' Committee.
He claimed that, as the President of Jesus College Student Union, he had overseen the "most extensive constitutional reform in six years, reforming the way the Student Union ran". CUSU is currently undergoing large constitutional reforms, in part to formally adopt the role of Disabled Students' Officer (DSO).
In an interview last week, he told Varsity that his vision was for "a CUSU that is in touch with students a lot more, but that supports JCRs…JCRs are the most important thing for students if there are issues with the college or with the university."
There were also victories for Eireann Attridge for the Access and Funding role, Roberta Huldisch for Education, Sophie Buck for Welfare and Rights, Audrey Sebatindira for Women's Officer and Umang Khandelwal for University Councillor. Chad Allen was re-elected as GU President.
Sebatindira defeated Connie Muttock by 805 votes to 391 for the position of Women's Officer, an unexpectedly wide margin.
Voting opened at midnight on Tuesday morning, and closed at 7pm on Thursday. Hustings were held on Monday evening, and saw tense clashes between candidates for several of the roles, particularly President, University Councillor and Welfare Officer.
During the hustings, Doku was challenged on his policies by rival candidates Cornelius Roemer, Angus Satow and John Sime.
Welfare Officer was a hotly contested role, with both candidates throwing statements back and forth regarding each others' conduct. Candidates Sophie Buck and Poppy Ellis Logan were engaged in a heated debate at hustings, in which Ellis Logan criticised Buck's lack of experience and asked: "Do you think you have more experience than I have?". Ellis Logan, who is the incumbent Welfare Officer, told Varsity that she had found the campaign against her "demeaning". She said that she had "been accused of focusing on disabilities at the expense of mental health", but that she had done "important work" in terms of "mental health provision".
Speaking to Varsity, Buck said that she "would not allow incumbents to re-run", describing incumbency as "clearly an unfair advantage". She said that running against an incumbent "makes it difficult to say areas you would improve in the existing system without referring to anything the other candidate might have done".
There were no applicants for the role of Coordinator, a role which encompasses several tasks related to the internal management and administration of CUSU. Varsity has been told that arrangements for a Coordinator by-election will begin shortly, and may coincide with the first ever election for a DSO.
Two candidates dropped out during the campaigning and elections period. Robert Corbyn-Smith abandoned his presidential bid on Sunday, for reasons which remain unspecified.
On Wednesday, NUS Delegate candidate Brendan Mahon withdrew his candidacy after citing a conflict of timings with the NUS conference in April. He gained the third-highest number of votes despite pulling out.
During the campaign, presidential candidate and ex-Trinity JCR president Cornelius Roemer was the subject of controversy. Last Friday, Varsity revealed a series of unreleased statements from his former committee, in which several allegations about his leadership style were made.
During the election period, he received two formal warnings of a maximum of three from the Elections Committee for various rule infringements.
Results will be confirmed by CUSU at 7pm tomorrow.