Emmanuel College Students' Union pushes ahead with gender-neutral college parents
Sarah Gibson, the President of CUSU's LGBT+ Campaign, told Varsity that this was a "really positive change that ECSU are making"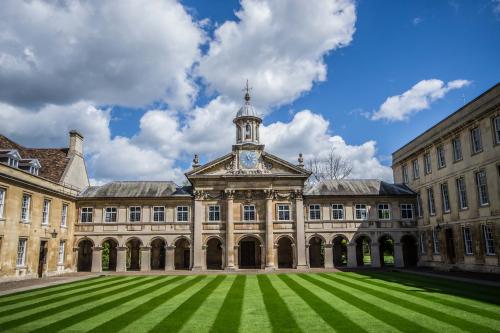 Emmanuel College Students' Union (ECSU) is pushing forward with the introduction of gender-neutral college parents. College parents at Emmanuel have historically been two third-year students, with one male and one female. Many colleges already allow gender-neutral college parents.
However, ECSU is currently re-writing the guidelines to ensure they are gender neutral. Speaking to Varsity, the Vice-President of ECSU, Kavish Shah, said that "last term the previous ECSU committee voted in favour of gender-neutral college parents (16-2, I believe)", but that the committee "never got around to actually implementing it".
Last autumn The Tab reported that ECSU had been striving to introduce this measure and that the criteria for college parents at the time stated that you "must apply with a member of the opposite sex".
"Previously the guidelines on the ECSU website stated that applicants to be college parents had to be male and female", ECSU's Vice-President continued, adding that "a few years ago there was even a blue box and pink box for applicants to put their names in". Shah was clear that the College and its leadership have "no position as such regarding the gender of college parents. The guidelines are ECSU guidelines, not college guidelines".
"The previous ECSU committee simply never got around to making the change as they wished to consult the tutors first, to make sure that any unseen issues could be raised, and because college parents are seen as being an important part of welfare for incoming freshers, for which tutors have important insight."
The current LGBT+ officer, Helen White, has written on ECSU's website that: "I am working to make sure that all things college related are in the best interest of LGBT+ people, including introducing gender neutral college parenting." Shah also told Varsity: "ECSU is free to amend the guidelines" and that the committee "have already removed the old guidelines from the website, and will be putting up new ones before college parents for this October apply".
"The new guidelines will emphasise the need for college parents to be able to work well together as a team, and to offer freshers a diversity of skills and experiences. Diversity can of course be offered through gender, but there are many other ways in which applicants can show this.
"College parents are there primarily for supporting freshers, and this will remain at the heart of the new guidelines, and if further changes are required to enhance this, then they will be looked into."
Sarah Gibson, the President of CUSU's LGBT+ Campaign, told Varsity that this was a "really positive change that ECSU are making and there is no reason why parenting schemes should be limited by gender. "Many colleges already have gender neutral schemes and removing unnecessary references to binary sex or gender makes the schemes more inclusive of non-binary and intersex students."