Christ's debates: must Smuts fall?
Professor Hakim Adi spoke on the topic at Christ's College on Monday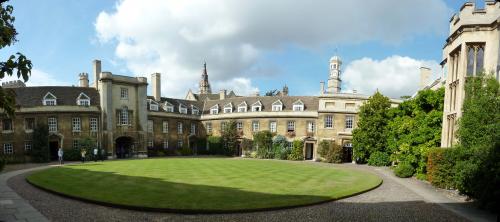 On Monday, Christ's College hosted Hakim Adi, Professor of African History and the African Diaspora at the University of Chichester, who was invited to speak on the topic of 'Must Smuts Fall? Apartheid Legacies and Eurocentric Heroification'.
Despite the naming of the event appearing to echo the recently much-publicised 'Rhodes Must Fall' movement at the University of Oxford, it served not to campaign but to ask a question: how should we deal with the colonial legacy of institutions such as the University of Cambridge?
Professor Adi began by explaining the history of Jan Smuts, former Chancellor of the University, and his role in establishing apartheid in South Africa alongside Rhodes.
He revealed that not only was Smuts a leading politician in South Africa in the 40 years leading up to apartheid, but that he was also directly responsible for the repression of Africans and the introduction of the oppressive South African system in Namibia following its repossession from Germany's colonial empire. Smuts's portrait hangs in Christ's College's hall.
However, Professor Adi then moved onto Winston Churchill, another historical figure honoured by the university – and "an even bigger criminal".
In the question and answer session that followed, in response to questions about greater or lesser personal responsibility for particular actions, it became clear that the use of Smuts's name in the event's title was intended to serve not as a singular target for criticism, Professor Adi responded, but as a symbol of the ideologies on the basis of which he acted, and which implicitly persist in the university as long as figures like him are honoured.
Professor Adi went on to answer questions about a variety of issues centred around the "disinformation" in Western narratives of history that "are Eurocentric, privilege white men of property, and exclude Africans and others".
Indeed, a historian stated from the floor that "the Churchill estate is running scared of exactly this kind of event" after revealing that he had been offered money by the estate to write a series of essays "contextualising" the racist and misogynistic writings in Churchill's journals in preparation for their publication.
Speaking to Varsity, Phelan Chatterjee, who organised the event, said: "I wanted to highlight the fact that as much as we like to pride ourselves on scepticism and critical thinking, there seems to be an entirely uncritical glorification of too many historical figures.
"More often than not, we tend to ignore the impact of alumni like Smuts on black and Asian people.
"The Eurocentric curriculum only really allows for white male perspectives, so stories of repression and hardship wrought by people we celebrate remain untold.
"I hope that this can serve as a first step to a wider interrogation of our history."