Documents reveal CUSU push for graduate representation role
Documents seen by Varsity in relation to the graduate representation review highlight CUSU's aim to unite Cambridge's two students unions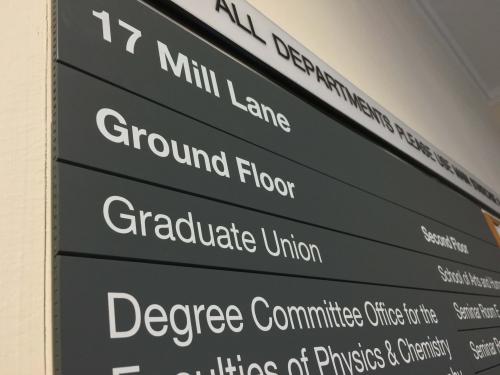 Documents seen exclusively by Varsity reveal CUSU's proposals for a future without the Graduate Union (GU), ahead of Monday's decision on the future of graduate representation.
Minutes from a meeting of the University Council's (UC) working group on graduate representation on 3rd December, released after a Freedom of Information request, show CUSU's continued drive towards having "one student union in the university".
The minutes document a presentation given by CUSU representatives to the UC's working group, which is headed by Professor Graham Virgo. It was conducted as part of the University Council's ongoing review into graduate representation at Cambridge.
In their presentation, CUSU President Priscilla Mensah and Mark McCormack, CUSU General Manager, described a general "confusion about why there were two unions and what the unions were doing that was different from one another".
Alluding to the issues of governance faced by the GU in recent years, including the temporary loss of its charitable status last year, the CUSU representatives said that the "GU's problems had created an additional burden for CUSU as it tried to support the GU's operations".
The meeting was the second in a series of three connected to the review, the first of which took place on 25th November last year. In that meeting, the UC's working group laid out the objective of a "full and fair review to determine the best way of providing representation for graduate students."
Another meeting was held on 13th January, in which the GU presented its arguments for its continued recognition. The university has not yet released its minutes, but GU President Chad Allen spoke to Varsity about the review.
Allen criticised the idea that having a graduate sabbatical officer could serve as a solution. He cited the example of Oxford University Students' Union (OUSU), noting that "OUSU have a single graduate sabb in a single-union setup. Although all the other officers represent grad and undergrads students, we understand it is often very challenging to convince the wider team".
"There is nothing at all inherently impossible about having two students' unions, one specifically for graduates, at the same institution."
"The timescale of the review was nowhere near sufficient for a process of this magnitude to be undertaken," he told Varsity.
CUSU President Priscilla Mensah challenged the idea that graduate representation in a merged union would have to be in the form of a dedicated sabbatical officer.
"I think it would be too soon to presume too much around that one idea of a merged students' union," she told Varsity.
When asked if other models for graduate representation could work, Mensah said "we haven't had internal consultations on what that would look like, but we do know that within our structure there are many ways that graduate representation can happen."
She underlined CUSU's dedication to a merged student union service.
She said: "we have stated in our strategic aims that we stand by the idea of having a merged students' union, and we will make every endeavour to ensure that graduate representation is structured effectively with."
The working group on graduate representation will present a report to the University Council for at its meeting on 15th February, where a vote will be held based on their findings.
Varsity understands that the final report has already been seen by CUSU and the GU.