Zero Carbon stages bridges protest
Three bridges across the Cam were strewn with divestment banners on Wednesday as the divestment movement takes off in Cambridge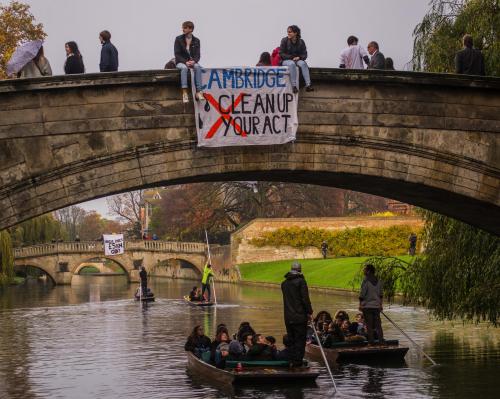 Members of the student Zero Carbon Society staged a protest on three bridges over the River Cam on Wednesday to highlight the university's investments in fossil fuels.
Students used bedsheets to stage a protest on Garret Hostel, Clare and King's Bridges to draw attention to the issue of divestment.
Zero Carbon wants the university to withdraw all its investments into and funding from fossil fuel companies, believing this will help in the fight against climate change.
Slogans on the posters included "Fossil-free future" and "Cambridge, clean up your act" and "Where does £5bn go?", in reference to widely-quoted figures about the size of the collective endowment of the university and its colleges.
The group recently started a petition calling on the university and the Vice Chancellor to withdraw all investments from fossil fuels stocks, bonds and shares; to commit not to invest in fossil fuel companies in the future; and to "explore and implement investment strategies targeted at building a sustainable future". 
At the time of going to print, the protest had gathered over 1,000 signatures in three days.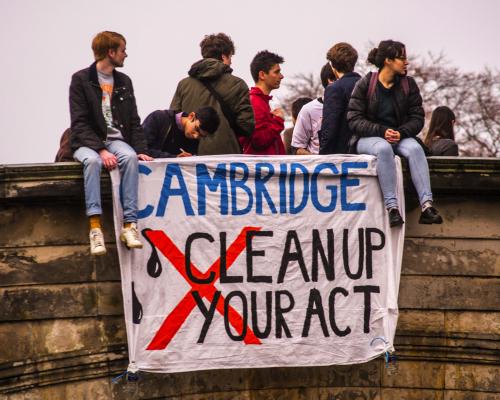 The protest on Clare and King's bridges was quickly shut down by the colleges' respective reporters, who were joined by porters from Magdalene when it became clear that students involved in the protest were from Magdalene College.
Angus Satow, Campaigns Officer for Zero Carbon and a student at Magdalene, was disciplined by his college following the protest.
On the occasion of the protest, the society commented saying: "Just two weeks ago, the university issued a video addressed to the entire world, presenting donations to Cambridge as an investment in the future.
"If the world wants to invest in it, Cambridge University must return the favour and invest in a sustainable future."
Last week Varsity reported on figures obtained by Greenpeace showing that the university had obtained £26 million in research funding and donations from mining and fossil fuel companies over the past five years.
The protest follows the launch two weeks ago of the university's 'Dear World... Yours, Cambridge' campaign, which aims to raise £2 billion.
For comment see Angus Satow