Badger cull protest hits city centre
A vocal minority protested today in the city centre to oppose the government-led badger culls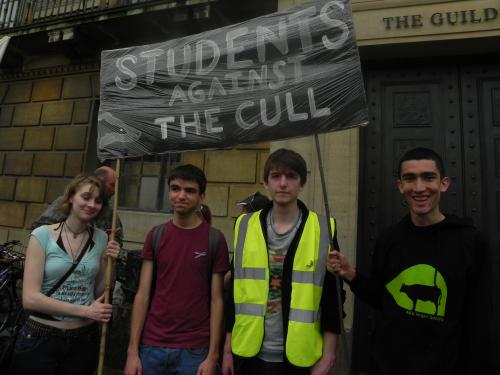 It was a busy weekend in Cambridge for protests, with policemen positioned around Market Square in order to coordinate two separate demonstrations. Cambridge Against the Badger Cull drew around 60 people (and two dogs) to its cause despite the bad weather earlier in the day. Although Cambridge News had predicted that 200 people would participate, organisers said this was a good turnout and were not sure how the media had come up with that estimate.
In the past, badger culling trials in the UK have aimed to reduce the number of badgers in order to control the spread of bovine tuberculosis (BCG), which can affect cattle and other species including humans. Although the risk to human health is thought to be minimal, bovine TB significantly increases costs to farmers due to movement restrictions, testing of livestock, and buying replacement cattle. Despite evidence that bovine TB is present in badger populations, various trials since 1998 have failed to prove conclusively that badger culling can significantly control the spread of the disease.
There is a large amount of public support for alternative methods of control such as vaccination. Nevertheless, two pilot culls were set up for 2012/13 in Gloucestershire and Somerset and were continued into 2014. When an independent report found that the culls in the pilot regions had been neither effective nor humane, plans to roll out the cull nationwide were abandoned. However the culling of badgers continues in Gloucestershire and Somerset. It is this culling that the Cambridge Against the Badger Cull was set against, mainly criticising David Cameron's decision to support the continuation of the culling program.
The protest started at noon in front of Guild Hall where Dominic Dyer, CEO of the Badger Trust, gave a speech explaining that the cull had gone ahead with "no scientific basis at all." He quoted statistics on the number of badgers killed, the cost to kill them, and how many badgers actually had TB. The protest then marched through town, avoiding the NHS sell-off protest, and ended at Midsummer Common. Joining Strawberry Fair, the march was followed with more speeches and "badger related activities".
The crowd seemed to be mainly made up of residents and long term animal rights activists including Joan Court, a 95 year-old animal rights activist and a founding member of Animal Rights Cambridge. However a small group of students joined in the anti-badger cull protests holding up their sign proclaiming "Students against the cull".
Made up of three University of Cambridge students and one student from Anglia Ruskin University, they admitted that the student turnout for the protest was low, but that this was probably due to bad timing. Most Anglia Ruskin students have gone home for the summer and many Cambridge students are still taking exams. Despite extensive leafleting, poor student awareness of the event was also probably at fault; the students that did attend were all part of the two-week-old Cambridge University Vegan Society and claimed to have heard about the protest through Facebook.
When asked why they thought not more students got involved with animal rights activism or indeed any activism in Cambridge, one student activist said "a lot of students interested in activism gravitate to political societies instead of individual causes. This is Cambridge so you are supposed to become a politician." Another suggested that to get more students involved "it might be a good idea to get a big group [of environmental causes] together as at the moment the smaller societies are very disparate."