Live: SU Election Results 2021
Varsity reports live as the SU and sabbatical officers for the 2021-22 academic year are announced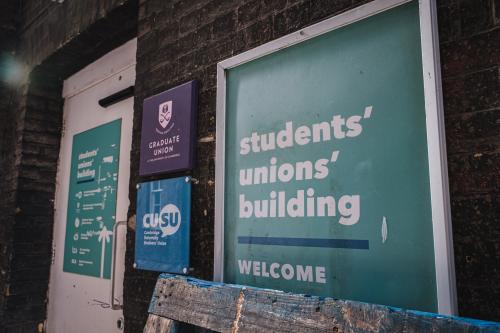 Live Text
(Refreshes automatically)

Follow along live as Varsity gives you live updates on the announcement of the Sabbatical and Non-Sabbatical officers for next academic year.

You can watch the live stream here.

You can view Varsity's coverage of the elections so far here.

The newly elected officers are as follows:
Double-Time Officer: Elliot Aitken
University Councillor: Freddie Poser
BME Officer: Tara Choudhury
Women's Officer: Milo Eyre-Morgan
Disabled Students' Officer: Anna Ward
UG Access, Education & Participation Officer: Zaynab Ahmed
PG Access, Education & Participation Officer: Amelia Jabry
Welfare & Community Officer: Ben Dalitz
PG President: Anjum Nahar
UG President: Zak Coleman
9:12pm 
That brings us to the end of our coverage of this year's elections. Thank you for joining us!
9:08pm 
Anjum Nahar, the newly elected PG President, said: "Thank you so much to everybody who voted and supported this campaign. This is a win for all grassroots campaigners in Cambridge - I pledge to work tirelessly alongside you in your fight for a more fair and ethical University. Together we will create long-lasting material change, and thoroughly improve and enhance the Cambridge student experience."
8:44pm 
Anna Ward, the newly elected Disabled Students' Officer, said: "I'm shocked and honoured and ready to wheel on Toope's toes."
8:34pm 
Freddie Poser, re-elected as University Councillor for a second term, said that he is "honoured that people have put their trust in me - I want to thank Charli for a well fought campaign and look forward to keep on holding the university to account." He added that "the response to covid still looms large - I'm going to fight for the best deal for every student", saying that he hopes to "leave a legacy of attention to detail and strong accountability."
8:07pm 
Zak Coleman, the newly elected UG President, said: "I'm super overwhelmed but feeling incredibly grateful to everyone who voted for me and for a fairer University that takes action on the urgent issues faced by students, on everything from the student mental health crisis to the climate crisis. I'm so excited to get to work pushing for positive changes for students to create a University that works better for everyone! I also want to thank all the other candidates for such a good-natured, fun and productive campaign. It was fantastic to run against such amazing people who I have so much respect for, and whose ideas and perspectives I will definitely take forward in the role. I know Cambridge can do so much more to make our experiences here even better, and I can't wait to get started working to implement my manifesto policies on behalf of students. I also want to say how excited I am by the incredible team that's been elected and all the work we are going to do together!"
7:57pm 
Amelia Jabry, the newly elected PG Access, Education & Participation Officer, said: "I'm just really chuffed at the turnout. I think I got the most votes of any single candidate at 2,722 which means people really turned out and want to see app fees scrapped/want change! So just a thank you to everyone and I'm very happy!"
7:52pm 
Ben Dalitz, the newly elected Welfare and Community Officer, said: "I'd like to say thank you so much to everyone on my campaign team and everyone who has supported me, and also thanks to the other candidate for a close campaign."
7:35pm 
Zaynab Ahmed, the newly elected AEP UG officer, says that she is "over the moon" with the result.
She adds that this was a "really great election, even though there were fewer voters this year", because the number of candidates running for sabbatical roles was "amazing."
7:22pm 
Tara Choudhury, the newly elected BME Officer, is "happy BME turnout was so high", and added that she is reassured that she has "earned the position".
7:22pm 
Elliot Aitken, the newly elected Double Time Officer said "I'm so glad to have this opportunity and work towards publicising double-time as a life-changing option for students who this could help."
7:20pm 
Milo-Eyre Morgan, Women's officer-elect for 2021-22, told Varsity that they are "very excited to continue Chloe's good work." 
7:19pm 
This marks the end of the results live stream. Varsity are currently interviewing candidates following the election results.
7:13pm 
The final announcement will be that of the Undergraduate President, which has been the most fiercely contested role this year with four candidates: Allison O'Malley Graham, Amy Bottomley, Ciara Aberdeen, and Zak Coleman. 
Allison's main aim is to create "a Cambridge for all"; Amy promises focused heavily on welfare and accessibility; Ciara's focus is on "transparency and open communication," and Zak will place emphasis on resources for students facing financial or disability-related hardships. You can read more about their manifestos here. 
Zak Coleman will be this year's Undergraduate President for 2021-22, it is announced, with 1,542 votes in the final round of voting.
7:12pm 
The first presidential announcement of the night is for the role of Postgraduate President. The two candidates are Jenny Ward George and Anjum Nahar.
Both candidates pledged to secure post-pandemic academic mitigation and help students seeking funding extensions.
Jenny ran under the campaign slogan 'PHEW!' - "Pandemic, Housing, Economics, Welfare." Her major pledges include limiting rent increases and improving access to affordable housing, as well as improving mental health resources and outdoor spaces in light of the pandemic.
Anjum's headline pledge is to abolish the £70 postgraduate application fee. She also wants the University to cover the visa fees and NHS surcharges faced by international students, and work with SU liberation campaigns to "build an anti-racist university" and "decolonise curriculums".
Anjum Nahar will be this year's Postgraduate President for 2021-22, with 1,719 votes, it is announced.
7:12pm 
The next announcement is the contested role of Welfare and Community Officer (WCO), with two candidates: Ben Dalitz and Ewan Hawkins.
Ewan's manifesto is focused on community solidarity with the wider city of Cambridge, as well as postgraduate rights, mental health support and secure housing for all. Ben's manifesto promotes mental healthcare and DRC funding to tackle the specific effects of the COVID-19 pandemic on students, as well as working with student liberation campaigns.
Ben Dalitz wins the vote and will be next year's WCO, after a tie at the final count of 1633 with Ewan. Ben is successful because they received more votes in the first round of voting, despite the tie in the second round.
7:10pm 
Next up is the contested role of Undergraduate Access, Education & Participation (AEP) officer, with two candidates in the mix: Zaynab Ahmed and Alex Roberts. 
Zaynab's manifesto offers several ideas on how to improve access and education, such as tailoring outreach work to relevant groups and the continuation of lecture recordings. Alex's manifesto is centred around making access work more accessible to those who need it, with an emphasis on the importance of both pre- and post-admissions access. 
Zaynab Ahmed wins the vote and will therefore be next year's AEP UG officer.
7:10pm 
Next up is Postgraduate Access, Education & Participation Officer (AEP). Amelia Jabry is running uncontested this year.
Amelia's headline pledge is to scrap the £70 postgraduate application fee. She is also promising to lobby the University to cover the NHS surcharge and visa fees faced by international students, and to ensure faculties publish clear exam and class scheduling guidance.
Amelia Jabry wins the vote with 2722 first preference votes, and will be the next Postgraduate Access, Education & Participation Officer.
7:09pm 
The next set of results to be announced is for the Disabled Students' Officer (DSO) election. Three candidates ran for the role: Peter Jonathan Lucas, Anna Ward, and Robin Denham.
Anna's manifesto focused on funding for the Disability Resource Centre (DRC), accessible teaching and assessment, and 'community solidarity'.
Anna Ward is announced as the winner and will be the next DSO. Anna won with 393 votes to 203 votes for Robin.
7:08pm 
Next is the sabbatical role of BME Officer, for which Tara Choudhury has run unopposed. If elected, she will be the SU's second BME Officer.
Tara aims to implement "anti-racist training" for University staff and improve the "unfit-for-purpose" structures for reporting racial harrassment. She wants to develop a culture that "celebrates" BME students, and enable their input into the decolonization of the curriculum.
Tara Choudhury has been announced as BME Officer for the SU 2021-22.
7:08pm 
Milo Eyre-Morgan also ran unopposed, meaning that the options on the voting form were Milo or to reopen nominations (RON). This was the most highly contested role during last year's elections, with five candidates.
Milo's manifesto focused on "making material improvements for all women and non-binary students," with proposals falling under four sections: Autonomy, Intersectionality, Work, and Safety.
It is announced that Milo-Eyre Morgan will be the Women's Officer for the SU starting from July 2021.
7:07pm 
The role of University Councillor is the next to be announced. This role is not a part of the SU, although the SU oversees its election. Three candidates went up for University Councillor: Charli Hendy, Freddie Poser, and Peter Jonathan Lucas. 
Charli's manifesto showed support  towards the current SU president's proposal of a new term structure, as well as decolonisation and increased Disabled Resources Centre (DRC) funding. Freddie's manifesto focused on ensuring a fair response to Covid-19, and increasing the transparency of the role of University Councillor. Finally, Peter's manifesto put emphasis on improving mental health provisions. 
Freddie Poser wins the vote and will be this year's University Councillor, with 1432 votes.
7:07pm 
The role of Double Time Officer is the first result to be announced. It is a non-sabbatical role for which Elliot Aitken has run unopposed. 
Elliot's manifesto set out his intentions to publicise the Double Time option and continue to provide support for students undertaking Double Time degrees through social events. He also plans to campaign to make the Double Time application process easier.
It is announced that Elliot Aitken will be Double Time Officer for the SU 2021-22.
7:04pm 
A total of 4,520 students voted in this year's election, with 1,008 postgraduate votes being cast, whereas in 2020, there was a total of 5,144 voters, with postgraduate voters made up 1,028 of the total.
This marks a decline in the turnout for this year's elections, the bulk of that decline being from less undergraduate voters.
7:04pm 
Matt Kite has begun the introductions, with the results being expected shortly.
7:01pm 
The livestream has just begun and we expect that we will start to hear some of the results shortly.
6:59pm 
Murray Edwards College had the highest turnout this year, with 45.8% of the College's 596 students casting votes in the election. Their JCR will be given £100 towards potted plants to decorate communal areas around the College. They were closely followed by Peterhouse, with a turnout of 45.4%.
Last year, Clare College cast the most votes, with a total of 52% of students voting in the elections, winning a pizza party for its students.
Meanwhile, a total of 33.2% of students at the Faculty of Classics cast votes in the election, making them the Faculty with the highest turnout. They were followed by HSPS and History, with 30.2% and 30% respectively.
6:49pm 
Welcome to Varsity's live coverage of tonight's election results. Throughout the next hour, the sabbatical and non-sabbatical officers for the 2021-22 academic year will be announced. 
The evening will run from 7pm until 8pm, culminating in the announcement of the undergraduate and postgraduate Presidents of the Cambridge Student Union.
Varsity is the independent newspaper for the University of Cambridge, established in its current form in 1947. In order to maintain our editorial independence, our print newspaper and news website receives no funding from the University of Cambridge or its constituent Colleges.
We are therefore almost entirely reliant on advertising for funding, and during this unprecedented global crisis, we expect to have a tough few months and years ahead.
In spite of this situation, we are going to look at inventive ways to look at serving our readership with digital content and of course in print too.
Therefore we are asking our readers, if they wish, to make a donation from as little as £1, to help with our running costs at least until this global crisis ends and things begin to return to normal.
Many thanks, all of us here at Varsity would like to wish you, your friends, families and all of your loved ones a safe and healthy few months ahead.
Sponsored Links
Partner Links