Students raise Covid-19 concerns to Vice-Chancellor in open meeting
The open meeting revealed that there will be no 'safety net' for this year's exams while the Vice-Chancellor reaffirmed that "Cambridge is an in person experience"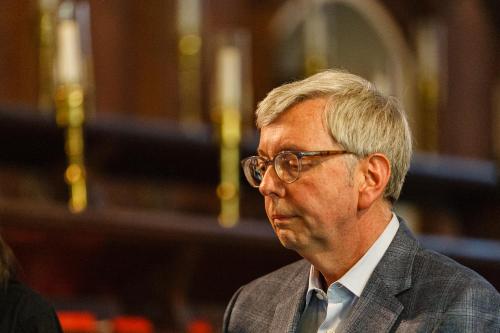 In an online open meeting held this afternoon (09/11), Vice-Chancellor Stephen Toope and Senior Pro-Vice Chancellor of Education Graham Virgo, alongside other panelists, answered  questions about how the "University and Colleges are responding to the pandemic".
Wellbeing this term 
Concerns were raised during the open meeting about the impact that continuing with the same workload during a lockdown would have on students' mental health. One questioner asked the panelists to make a clear statement prioritising "mental wellbeing over academic rigour."
Graham Virgo, in response to this question, said that the University is "absolutely committed to the welfare of our students; we are very concerned about mental health and wellbeing". He stressed that  I have been looking at deadlines in terms of workload…there are not many formal deadlines coming up but I have said to faculties and departments that it is really important that workload is managed carefully", furthering that "when we give work out to our students we understand the circumstances that our students are operating in/under, we will keep this under review...What is really important, for students and staff, is to look after ourselves." 
Along the same line a questioner asked whether "the University (will) be putting increased resources into the University Counselling Service to ensure that waiting times remain short and that no student falls through the gaps in college welfare provision" given concerns about students' deteriorating mental health during the nationwide lockdown. 
Virgo said that he was "monitoring really carefully what is happening in the counselling service" clarifying that the counselling service currently "has no longer waiting lists than this time last year...this is a waiting list of no longer than two weeks." 
He also confirmed that additional resources were being put into the counselling service so that "support is there throughout."
From the college perspective Dr Marina Frasca-Spada, Senior Tutor of Corpus Christi, said "all of us take this very seriously and are putting a lot of work into improving the facilities we have to provide support to students." 
Exams
One cause of added stress among finalists this year is the lack of safety net available to them. This was raised by someone who referred to the "safety net, so that finalists would not receive a class dramatically lower than what was normal for them."
Another questioner said that "A safety net is crucial for finalists this year. We cannot be expected to just be 'resilient' and be judged on the same criteria as every finalist cohort before us", citing lower quality of education, fewer opportunities for socialising and extracurricular activities and the "detrimental" impact to mental health. 
On the issue of the safety net Virgo confirmed that "the safety net will not be available this year...the safety net that operated last year meant that a finalist would be given a guarantee that the class they would eventually be given would not be lower than that given in their second year...for the vast majority of students they did not have a summative assessment/a class for their second year so we simply cannot operate the safety net."
"The safety net will not be available this year"
He clarified that "of the other universities I discussed this with, that is the Russell Group, I'm not aware of any university that is operating a safety net this year." 
Questioners also discussed the second exam period that was used last year "for people who had been ill, isolating, had caring responsibilities, etc. during the first exam period", describing it as "reassuring for students [to know] that the increased risk of illness during exams would not mean they would leave with an unclassed degree".
Regarding the second exam period Virgo said "we have no plans to introduce a second examination period. This is subject to review but as things stand for the moment there will not be a second exam period."
Remote learning
Many questions centred around whether students will be required to be in Cambridge during Lent term or whether remote learning will be an option for those who wish to utilise it. 
One question asked related to remote learning in particular highlighted the effects of the national lockdown on the view of some students that "the Collegiate University in reality is simply unable to effectively ensure their wellbeing and access to education in Cambridge, and in light of this it is unreasonable for the Collegiate University to generally mandate that students be resident here."  
In response, Toope emphasised that it is "very difficult to know what our circumstances are going to be two terms from now", referencing recent "hopes of things looking up in terms of a widely distributed vaccine". 
"As things stand for the moment there will not be a second exam period."
Toope went on to emphasise that the University has a "fundamental commitment" for "students [to] have as close experience as possible to the collegiate, in-person experience that Cambridge is famous for", stressing that the University is "committed to face-to-face teaching because it is the right thing to do...for as long as we can." 
Ben Margolis, Cambridge Students' Union's (SU) Undergraduate President and moderator of the panel, asked Toope to clarify his response by detailing whether remote learning will be an option for all. 
Toope replied by outlining that "we [the University] have taken the view that Cambridge is an in person experience...and I think we will continue to take that."
Dr Marine Frasca-Spada, when asked the same question on remote learning, thinks that in Corpus there "is a very small number" of people want remote learning and she has spoken to those at other colleges who similarly have found that people are "very happy" to be in College. 
On the postgraduate side attention was drawn to the difference in policy between Oxford and Cambridge. At Oxford, postgraduate Phds are allowed to work away but this option is not permitted at Cambridge. 
Graham Virgo reaffirmed the University's position that all postgraduates and undergraduates were expected to stay, and underlined the "importance of the residential nature of a Cambridge education", whilst noting that "we are keeping this under review as regards to postgraduate students." 
International students
The unique position of international students was raised during the meeting, particularly in regard to accessing permission for remote learning and the University listening to their concerns. 
When asked about inconsistencies between the government policy on international students returning home and the University's policy, Graham Virgo said that "some parts of [the government's] guidance are ambiguous and actually inconsistent with legislation that brought in the second national lockdown." 
Virgo identified that the "statement in the guidance which identified that international students can leave if they wish to" was based on the condition that their return continued to follow Foreign Office guidance. "We saw clarification from the Department of Education that students should not travel during the lockdown period." 
However, Virgo reminded the open meeting that "remote study will be authorised for a student who can not get to Cambridge" and "for a student whose underlying health condition means that it is not appropriate for them to study in Cambridge", with these policies applying indiscriminately to international students and domestic students. 
The University has a "fundamental commitment" for "students [to] have as close experience as possible to the collegiate, in-person experience that Cambridge is famous for"
Dr Marine Frasca-Spada, following on from Virgo, stressed that colleges are "considering this [students returning home] on a case-by-case basis." 
Towards the end of the meeting, panelists were probed as to why they are "referring to personal feelings and impressions, that can only be subjective", in light of "hard facts" such as the fact that 576 students have signed the student union's International Student Campaign open letter asking for permission to work remotely (as of Nov 4th). 
In response, both Roger Mosey and Graham Virgo stressed that they understood students' opinions on staying in Cambridge are "by no means universal" and re-articulated that "colleges are dealing with this issue on a case-by-case basis". 
Staff and redundancies
More broadly, questions were raised about the treatment of staff across the Collegiate University. Questions were asked about the redundancies being made at Colleges in Cambridge, the relationship between UCU and the University, and the hiring freeze.
In response to these issues Toope said the University was "trying to find a way to protect staff which is why we voluntarily agreed to extend contracts when they were coming to a close before we had any assurance that we would be given any support from government...furlough schemes will be used by the University and colleges as they are appropriate."
He clarified that "right from the beginning" it has been "very important for the university to protect staff as much as possible" pointing out that the "University has not made massive layoffs."
Speaking from the perspective of colleges, Roger Mosey, Master of Selwyn, said that "we are a charity and the losses we will face as a result of coronavirus run into the million of pounds, we are not planning on making redundancies but every college will have different circumstances …clearly losses of millions of pounds more a year may mean that colleges have to look at the way they run and their operations." 
Regarding UCU specifically, attention was drawn to an open meeting in February last year in which Professor Toope admitted "it looks really odd" that Cambridge is one of only 6 universities that does not recognise UCU as a union and promised to raise the issue again. 
In response Toope said "we have been in discussions with UCU… and that is a continuing discussion…(which) has been made more complicated by coronavirus."
"We have been in discussions with UCU… and that is a continuing discussion"
"Just about 10 days ago I had a meeting with all of our trade union representatives...and we recommitted to making progress around the UCU recognition...there were very clear statements from some of the unions about the support the university has given their/our workers."
Rents
On the subject of rent, one question raised to the panel was: "if lockdown is extended into the start of Christmas vacation...do the colleges and University have plans in place"? It was also queried whether colleges will have an agreed policy on charging students rent if the second nationwide lockdown is extended.
In response, Roger Mosey, Master of Selwyn, stressed that he did "not want to answer what sounds like a hypothetical question". 
He continued: "we will look at this in a compassionate way...as a general principle if people are in Cambridge they pay rent, if government action forces universities to close then we would not be expected to charge rent." 
Regarding students who have already left Cambridge since the start of term, a student from Murray Edwards asked whether students, who have "already paid their rent bills for the whole term" and are potentially incurring additional costs from living outside of Cambridge, will be compensated for bills they have paid. The same individual later asked whether the "University or colleges [can] commit to not charging students for the period in which they are not in student accommodation"? 
Speaking on behalf of colleges, Mosey reminded attendees that "when students had to leave in the Easter term, all colleges made the decision not to charge rents because we thought that was the right thing to do...but that was when government restrictions were shutting universities", as "I understand if you are here you pay rent, but if there was any government policy that made you leave Cambridge you wouldn't have to." 
Mosey went on to emphasize that colleges will exercise "discretion" for unique cases and this will be implemented College by College.
After a follow up question from Margolis about the transparency surrounding financial compensation and rent, Mosey further stressed that if students are facing or at risk of "genuine hardship" they should go to their College, where they will be assisted in sorting out hardship funds. 
Varsity is the independent newspaper for the University of Cambridge, established in its current form in 1947. In order to maintain our editorial independence, our print newspaper and news website receives no funding from the University of Cambridge or its constituent Colleges.
We are therefore almost entirely reliant on advertising for funding and we expect to have a tough few months and years ahead.
In spite of this situation, we are going to look at inventive ways to look at serving our readership with digital content and of course in print too!
Therefore we are asking our readers, if they wish, to make a donation from as little as £1, to help with our running costs. Many thanks, we hope you can help!
Sponsored Links
Partner Links