Cambridge Defend Education blockades Old Schools in support of strikes
UCU was not contacted about the blockade, but thanks the students involved for "the boundless solidarity" they've shown them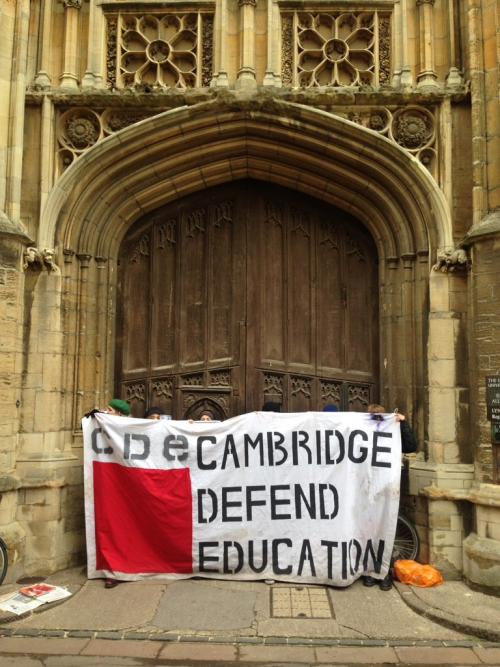 A group of students from Cambridge Defend Education (CDE) blockaded Old Schools yesterday morning in solidarity with the UCU strikes, which began on Wednesday.
CDE, an independent group of students and academics who campaign for an "empowering, emancipatory and radical vision of education",  had not contacted Cambridge University and College Union (UCU) or CUSU about the blockade, before going ahead with it.
The blockade was made up entirely of students and was not an official picket, so not subject to the same laws that govern trade unions, which make it a criminal offence for a union to hard picket and prevent people getting into a workplace
"Students have the power to take action in support of the strikes that workers cannot,", explained a student spokesperson from CDE.
They added the blockade was necessary since "University management have actively participated in reproducing the inequalities that UCU has been forced to strike over, and they have the power and responsibility to tackle them."
"We're here to protest the University's failure to respond to or meet the demands related to the strikes: if they won't act like a University that cares about its staff and students, we'll claim it back from them."
After the blockade, a UCU spokesperson - unaware the event was taking place - told Varsity, "we thank the students from the bottom of our hearts for the boundless solidarity they've shown us, in so many forms, over the course of our fight".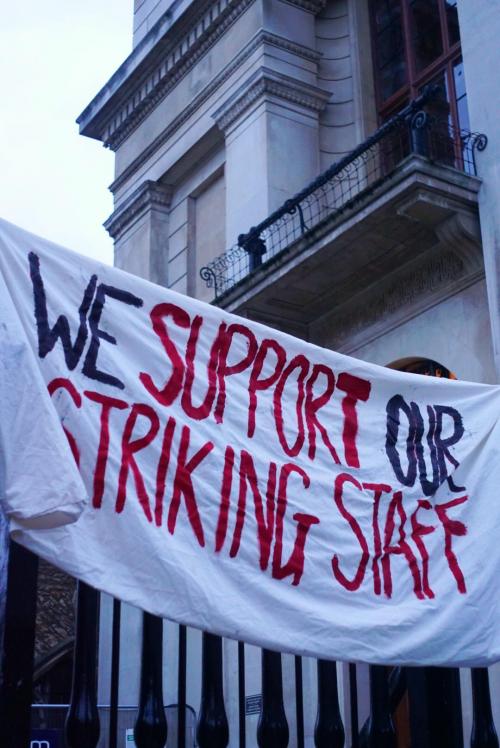 They added that while "UCU has not been in formal contact with CDE, we do know that members of UCU visited the blockade earlier this morning with breakfast for the students supporting our struggle."
CDE said the group has pledged "to escalate action" until UCU's three demands are met. They are calling for the University to officially recognise UCU, to issue a public statement calling on UUK, and for UCEA to meet UCU's national demands and to hold an open meeting,
CDE have added a further two demands, first that "there should be no attendance monitoring of any kind during the strike period, to ensure migrant students and workers can participate in strike action" and secondly, that "there should be no disciplinary action against students or staff for action in support of the strike."
At the time of writing, the University's position on these demands has not changed.
Varsity has contacted the University for further comment.