Rally outside Guildhall protests government's deportation flight
Protests carried placards reading "Solidarity with the Windrush Generation" and chanted "no borders, no nations, stop the deportations"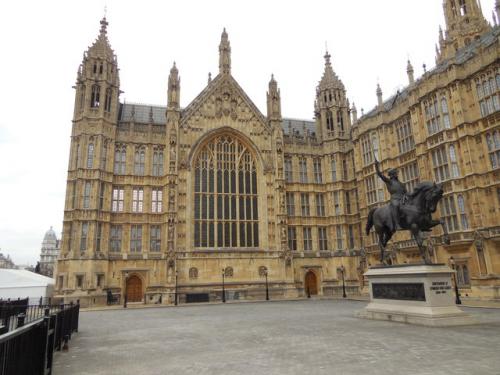 Dozens of students and local activists gathered outside The Guildhall on Sunday afternoon to protest the government's decision to continue a controversial deportation flight to Jamaica.
Originally 50 people had been expected to be deported on Tuesday morning in what is the second immigration removal charter flight to Jamaica since the Windrush scandal.
In 2018, The Guardian revealed that commonwealth citizens who had arrived in the UK after WW2 from the Caribbean, at the invitation of the British government, but never formalised their residency, were detained and in some cases deported.
However, a late ruling from the Court of Appeal halted the deportation of 25 people after concerns that they may not have had access to legal advice due to an issue with an O2 phone mast near the detention centre where they were being held. Downing Street confirmed that 17 people were deported on Tuesday morning.
The protesters – who braved the heavy rain and winds of storm Ciara - carried placards reading 'Solidarity with the Windrush Generation' and chanted, "no borders, no nations, stop the deportations".
"We are here because the British government has decided to continue plans to deport 50 Jamaicans by next week. These people, many of whom have lived in Britain their whole lives are being held in detention centres," said one student leading the protest
"At times like this when they may feel alone it is up to us and people all around the country to say we are standing with them."
Speaking to Varsity, CUSU's BME campaign said, "the BME Campaign stands in solidarity with those who are facing deportation this week and remains horrified by the British government's hostile environment policy, which continues to disproportionately target communities of colour."
"This is yet another reminder that citizenship for black and brown people is treated as conditional in this country and that the state reserves the right to upend and destroy the lives of many of us - as these deportations threaten to do."
The government's actions have been criticised by people from across the political divide, with over 150 MPs - including Labour leader Jeremy Corbyn - signing a letter urging the government to cancel the flight until the publication of the long-delayed "Windrush lessons learned" report.
The report was commissioned by Sajid Javid in 2018, while he was Home Secretary, to avoid any further repeat of the Windrush scandal. A draft, which was leaked to MP David Lammy and seen by BBC Newsnight, urged the government to halt mass deportations and consider an overhaul of the law.
Current Home Secretary Priti Patel defended the government's decision, claiming all those on the flight had been convicted of "serious offences" and carried sentences of more than a year.
Although many of the people on the flight had lived in the UK for most of their lives, Patel said she was bound by legislation to deport them.
One person affected is Howard Ormsby, a father of five, who was convicted of possession with intent to supply drugs, and faces deportation despite having served his 18 month sentence. Speaking to the BBC, he said he came to the UK aged 15 and has been here for 18 years of his life: "I've never tried to deny the fact I've made a mistake, but everyone has a chance to right their wrongs. I have all my family here. I have no-one in Jamaica."
HM Inspector of Constabulary, Wendy Williams, was commissioned to oversee the "Lessons Learned" review in 2018, and its findings were originally set to be published in March 2019. However, the report has been repeatedly delayed.
Last June, extracts of a leaked draft explained the Home Office had failed in its legal duty to counter racial discrimination when it implemented its anti-immigration "hostile environment". The report accused Home Office officials of recklessness and reluctance to acknowledge mistakes.
Ray, a representative from a local social activist group, Cambridge Revolutionary Socialism in the 21st Century (RS21), who said at the protest, "I remember when the people called the Windrush generation arrived in Britain, and they arrived to terrible hostility."
"The Home Office and the government are institutionally racist, and the hostile environment must be fought against."