Students join in solidarity with UCU strikers at mass rally
Hundreds of staff and students took to the streets of Cambridge on the first of the planned eight days of industrial action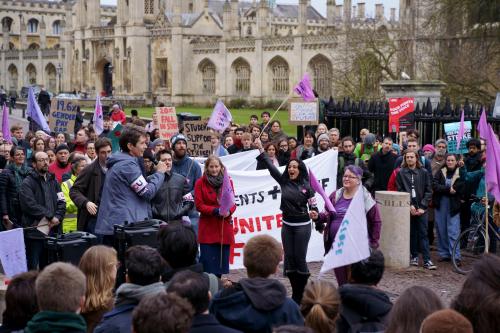 Students and staff gathered this afternoon on King's Parade for a rally in support of the eight day UCU strike which began today.
The rally was attended by hundreds of staff and students and was organised by several student activism groups, including Cambridge Defend Education, Cambridge Zero Carbon Society, Demilitarise Cambridge and the CUSU Women's Campaign.
At the end of October, University staff voted to support strike action over planned increases to their pension contributions, and over pay and working conditions. Staff will be striking between the 25th of November and the 4th of December.
The crowd was energised, chanting, "they say cut back; we say strike back!" and, "they say marketise; we say organise!" outside Great St. Mary's church. They held banners reading "strike to win" and the UCU members present wore armbands. After a number of speeches given by members of the various organisations a purple flare was let off.
The gathering was followed by a march down King's Parade and through Market Square, ending at the doors of Senate House which were guarded by security. Here the crowd appealed to the University's Vice Chancellor Stephen Toope, as they shouted "Toope, Toope, can you fucking hear us?"
Cambridge UCU's press spokesperson, who is also an academic-related staff member, told Varsity that the strikers are "part of 60 Universities across the country taking action on pensions, pay inequality, increased casualisation of work, workloads and, more broadly, the general marketisation of higher education."
"Student solidarity with the strike is massively important,″ they said. "Knowing that your students are in support of the decision to strike makes a huge difference to lecturers and workers. They don't take the decision to strike lightly, so students respecting that decision is very important."
When asked what they would say to students who feel they are missing out on teaching hours that they have paid for, they responded that, "I personally understand that students are very committed to their studies and they feel a very strong obligation to attend lectures. What I'd caution against is saying that they've paid X amount for it… That plays into the narrative of increasing marketisation of higher education and I don't think that's a helpful framing of it."
They emphasised that striking is a "last resort", saying, "the last thing we want to do is to significantly impact the mental health or the well-being of students."
A student participating in the protest told Varsity that they "view the struggle that our lecturers are currently undertaking as the same struggle that the student body has seen and the attacks of marketisation affect us all and are a detriment to all of our education."
"The minimum that you can do is to not cross a picket line," they said, suggesting that crossing "undermines our lecturers' struggle."
A group of PhD students and teachers from the French department told Varsity that "[we] stand in solidarity with the staff, but we didn't have the right to strike in the same way that they did because we are technically "employed" (not really) by our colleges… so we have moved our teaching."
"We don't have any rights to holiday if we're sick - previously PhD students weren't even paid for the work that they did. It was seen as part of a formal training programme."
"We're students as well, but we also have expertise and we have to work and prepare', one PhD student said. "We get paid just for the hours that we teach - none of the preparation, none of the marking, none of the stress. So we stand as part of a body of students who are on the boundary between staff and student. We need to have our voices heard."
If you have been affected by any of the issues raised in this article, the following information and support is available: