Cambridge climate protesters target BP recruitment events
The recruitment events were held in the same week that the University announced a new initiative to respond to climate change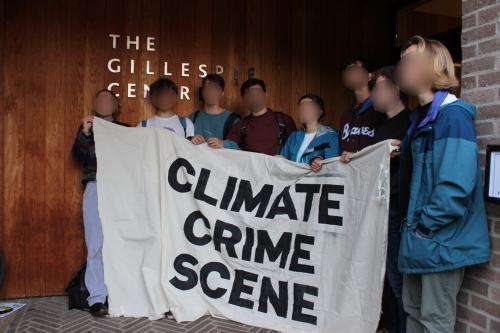 Members of Cambridge Zero Carbon Society protested this week at two BP recruitment events held at Cambridge University.
The first, on Monday, was a whole-day event hosted at the Department of Chemistry, which has close links to the company through sponsored prizes, annual lectures and the BP Institute. Protesters stood between the panel and audience at one meeting holding up a sign which bore the words "climate crime scene." According to images circulating on social media, the meeting was poorly attended.
On Tuesday, Cambridge Zero Carbon Society continued their campaign by shutting down a second recruitment event. Blockading the venue, they turned away spokespersons from BP and handed out "alternative leaflets" to student attendees. According to the society, BP did not then email students to inform them that the event was cancelled.
Cambridge Zero Carbon Society describe making Cambridge University a recruitment ground for BP as "appalling and disgraceful" and say it disregards students' concerns about BP. A representative from the society has commented that "research institutions are pretty much the last hope of recruitment and legitimacy for fossil fuel industries like BP. Hence, universities like Cambridge are directly responsible for oil giants still able to find employees." It is unclear whether there are rules or ethical guidelines regulating which companies may approach students using the university as a platform.
Monday's protest was the second time this year that the society has disrupted a careers event held by BP at the Department of Chemistry. In January, protesters targeted a talk addressed to women in science given by a BP chemist entitled 'An international career in optimising energy.' More broadly, Cambridge University has come under significant pressure to sever its links with the fossil fuel industry and earlier this year agreed to examine in-depth the advantages and disadvantages of divestment. An update on the progress of this report is due this month.
Notably, on the day of the recruitment event, the University of Cambridge posted a news bulletin announcing 'Cambridge Zero', an "ambitious new climate change initiative." The programme, to be formally launched in November, aims to "respond to climate change and support the transition to a sustainable zero-carbon future, both in the UK and globally."