Protests as Bill Gates gives fellowship lecture at the Union
Loud music, flyers and flares protested working conditions in Republic Services, a company Gates is a major shareholder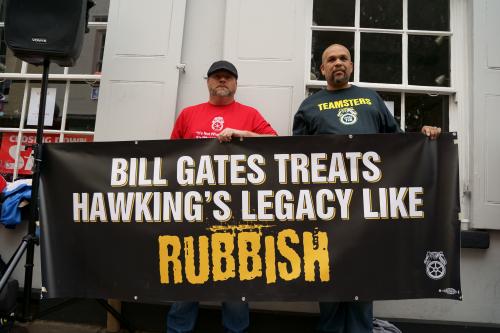 Arriving at the Cambridge Union this morning to give his Hawking Fellowship lecture, Bill Gates was greeted by a small but loud group of around a dozen protesters. They were challenging the working conditions and pay of workers at Republic Services in America, a company in which Gates is a major shareholder.
Two striking sanitation workers from the US, alongside a representative from the Teamsters trade union, flew in from the US to protest against Gates, and were supported this morning by members of Cambridge Defend Education (CDE).
Playing loud music and handing out flyers some of the protesters set off flares outside of the Union building.
Flyers handed out to the queuing Union members were titled "Bill Gates treats Hawking's legacy like rubbish", and bore a quote from Stephen Hawking saying, "We can't go on ignoring inequality, because we have the means to destroy our world but not to escape it."
The protesters called on Gates to "honour Stephen Hawking's legacy and end the rank hypocrisy."
Recently, workers at Republic Services have alleged that the company has violated federal labour laws, decreased pay, and failed to provide affordable healthcare insurance. Members of Teamsters Local 25 Union have created picket lines in at least 15 of the cities Republic Services operate in, and hundreds of the company's employees have refused to cross them.
Teamsters say that Bill Gates receives over $100 million in stock dividends each year as a major company shareholder. The manager of Cascade Investments, Gates' investment company, sits on the board of Republic Services.
Varsity spoke to some of the members of the protest who had come from America.
Criticising Gates' inaction as he profits from the company, Matthew Brown, a Teamsters union representative from Memphis, Tennessee said: "It's unfortunate that America's second richest man makes a profit and refuses to share that profit with the men that make it happen."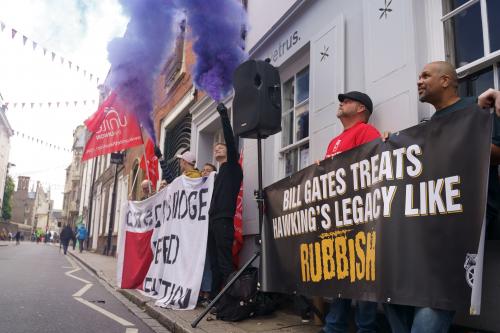 "He is cashing in dividends on workers he is deliberately leaving behind. If Bill Gates called Republic Services and said 'Settle this with the Teamsters, come to a comprehensive agreement', it would be done.
"Corporate America says yes to Bill Gates."
Republic Services are the second largest rubbish collection and disposal company in the US and last year made profits of $2.81bn.
The Gates Foundation and Republic Services were contacted for comment.
Another worker, Demetrius Tart, who is a bin driver from Atlanta, Georgia, has spent 14 years working for Republic Services and went on strike to protest the company's violation of federal labour laws and a change in pay that resulted in a decrease in annual income for the workers.
"We just want to provide for our families. You shouldn't have to worry about if you can take your kid to the hospital and if you can afford the medicine. I had a medical issue where I had to get some pain pills and the insurance didn't cover it - it was $300 for the pills. I'm paying $70 dollars a week [on insurance]. I couldn't get the pain pills, I had to deal with it because I couldn't afford them."
"We don't like to go on strike and do a disservice to our customers. We want to come to the table and bargain with [Republic Services] in good faith."
Bernie Egan, a Republic Services worker from Marshfield, Massachusetts was also at the protest. He has been on strike alongside 23 other sanitation workers at Marshfield for the past six weeks due to disputes over healthcare coverage and retirement benefits.