Cambridge cuts carbon emissions after replacing lamb and beef with plant-based products
"It is hard to imagine any other interventions that could yield such dramatic benefits in so short a span of time," said Prof Andrew Balmford, who advised the changes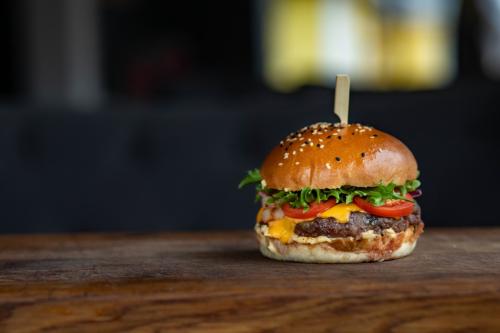 The University Catering Service (UCS) has cut its carbon emissions by 33% and its land footprint by over a quarter, according to a new report released yesterday. 
This comes after the University switched from ruminant to non-ruminant meat in October 2016, removing beef and lamb from its menus. 
At the same time, they promoted the consumption of plant-based options, removed unsustainably-harvested fish from the menu and reduced food waste.  Andrew Balmford, Professor of Conservation Science at the University, advised UCS on all four of these changes.
"This report demonstrates how achievable, environmentally effective, and professionally rewarding these bold actions can be," he stated. 
Overall, carbon emissions were cut by 10.5% between 2015 and 2018. Per kilogram of food purchased, there was a 33% reduction in carbon emissions and a 28% reduction in land use. 
These changes were part of the Sustainable Food Policy created by the UCS and the University's Environment and Energy section. 
The UCS is the university's in house catering service, which manages fourteen cafes and canteens across Cambridge, and caters for more than 1,500 events every year. 
It has also stopped selling single-use plastic bottles, replaced by biodegradable plastic bottles, glass bottles or cans. As a result, over 30,000 plastic bottles have been saved from landfill each year. 
The University has been contacted for comment. 
The report pointed to the dramatic increase in concern "about the twin climate and environmental crisis" over the past 12 months as precipitating the University's catering managers to rethink their operations. 
Despite increased food costs, sales and profits have increased since these changes were implemented, with the University seeing a 2% increase in gross profit in 2017/2018 compared to 2014/15. 
Nick White, Head of Operations, points to the initiative as "making the right choice easy for customers". The report explains that "key to the Policy's success was that the customer didn't have to change their behaviour in order to eat more sustainably, as most changes happened before the food reached the customers' hands".
To help achieve this, chefs were given vegan cookery classes and cafe managers trained on marketing for sustainability as opposed to profit. 
This isn't the first initiative introduced by the UCS to help improve its environmental performance: they have previously implemented 'Vegware' compostable packaging and disposables and the recycling of cooking oil. They also introduced 'KeepCups' - standard reusable coffee cups - in 2013, of which they have sold a total of 21,500. 
Nevertheless, Balmford emphasised that "there is more to be done", pointing to "further lowering use of plastic, and in particular, encouraging take-up of these ideas across Cambridge Colleges [...] and the wider university sector". 
Carbon emissions would be cut by 64% if all the Colleges replaced ruminant meat with poultry and pork, the report noted.