Master of St John's Sir Christopher Dobson dies, aged 69
Professor Sir Christopher Dobson had been master of the college for 12 years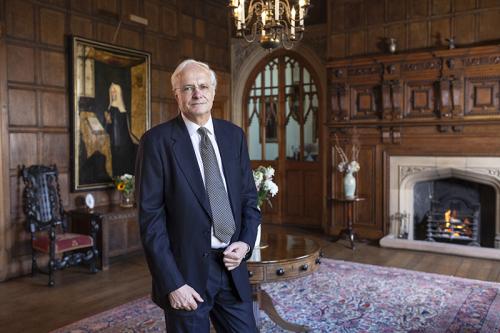 Tributes have been paid to Professor Sir Christopher Dobson, master of St John's College, following his death from cancer on Sunday, at the age of 69.
Dobson was elected as the 44th Master of the college in 2007, initially coming to Cambridge in 2001 after being awarded the John Humprey Plummer Professorship of Chemical and Structural Biology and elected to a fellowship.
As Master, he introduced the St John's Studentships — a scheme which offered significant additional grants to undergraduate students from lower-income families.
In his career as a chemist, Dobson published over 800 papers and articles. His research focused on protein folding and misfolding and its links to neurodegenerative conditions such as Alzheimer's and Parkinson's disease. In 2012 he co-founded the Cambridge Centre for Misfolding Diseases.
During his career, Dobson was the recipient of many awards and accolades including the 2009 Royal Medal of the Royal Society and the 2014 Feltrinelli International Prize for Medicine. In 2018, he was knighted for his contributions to science and higher education.
Dr Frank Salmon, President of St John's College, praised his "pioneering research" into the origins of Alzheimer's and Parkinson's which "will undoubtedly lead to the discovery and introduction of new and effective treatments in the future that will benefit millions of people".
"His commitment to helping others will be an equally inspiring part of his enduring legacy".
The University's vice-chancellor, Professor Stephen Toope, paid tribute to "a profoundly decent and compassionate man of towering academic achievement".
The College's flag is flying at half-mast in memoriam, with a book of condolence placed in the Porter's Lodge and Chapel. Details of a memorial service will be announced at a later date.