Hundreds gather in Cambridge in protest of plans to suspend Parliament
The city today saw the second protest in a week in opposition to the Prime Minister's landmark decision to prorogue Parliament ahead of the Brexit deadline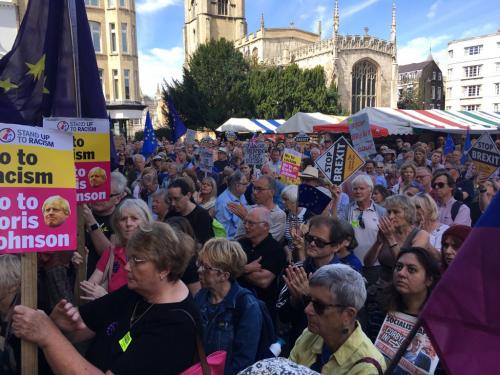 This afternoon, tens of thousands of protestors took to the streets in cities across the country in opposition to Prime Minister Boris Johnson's plans to suspend Parliament in the run-up the UK's scheduled EU exit date. In Cambridge, around 1,000 people turned out to protest, gathering at midday outside the Guildhall.
This is the second protest in Cambridge this week to challenge Johnson's controversial move to prorogue Parliament, and comes amid nationwide outcry in response to the move. On Wednesday, more than 100 demonstrators gathered in Market Square at approximately 6pm, after the Queen earlier that day accepted Boris Johnson's request to prorogue Parliament for a month from the second week of September. The suspension is set to occur in the crucial few weeks leading up to the Brexit deadline of 31st October, when the UK is scheduled to leave the EU.
More than 1.67 million people have signed a petition asking that Parliament not be prorogued or dissolved "unless and until the Article 50 period has been sufficiently extended or the UK's intention to withdraw from the EU has been cancelled".
Protestors gathered today in Cambridge brandished banners bearing slogans such as "stop prorogation, defend democracy", "hands off our parliament" and "stop Brexit". They chanted "stop the racists, stop the coup".
Daniel Zeichner, Labour MP for Cambridge, addressed gathered protestors, saying "Brexit is by the rich, for the rich". Discussing the protest later today on Twitter, he said, "Our message is loud and clear: we oppose your blatant attempt to shut down Parliament to force through a devastating no deal". 
Commentators and MPs have voiced their concerns that the suspension of Parliament could hinder the possibility of preventing a no-deal Brexit. Senior conservatives have denied that the prorogation of Parliament aims to force through a no-deal Brexit, arguing that it is "normal" that Parliament go into recess at this time of year.
City councillors, representing both Labour and the Liberal Democrats, also gave speeches, alongside a variety of trade union activists and local people. Disabled activists raised concerns about the potential impact of a no-deal Brexit on necessary resources, and argued that disabled people's rights have been eroded and overlooked by Boris Johnson and the Conservatives.
Speaking to gathered demonstrators, Kelley Green, a Labour councillor for the Petersfield ward, said of Boris Johnson: "You vote for an idiot and you get idiotic policies!"