Corpus to create 30 places for disadvantaged students, introducing pre-matriculation 'bridging course'
Selected students from under-represented backgrounds will take part in Cambridge's first residential 'bridging course' to address educational inequalities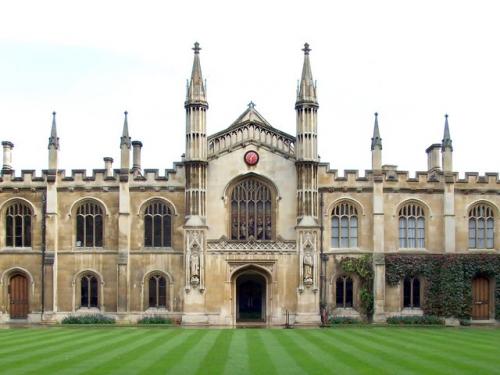 Over the next three years, Corpus Christi College will create thirty dedicated undergraduate places for students from under-represented backgrounds, and is set to establish a three-week, fully-funded residential 'bridging course' for disadvantaged students prior to their first term of study in September 2020.
According to the College, the thirty new undergraduate places will mark its 'largest single increase in student numbers for fifty years', and will increase its intake of home students by fifteen percent.
The bridging course – the first set to be established by a Cambridge college – will seek to ensure that 'all students are given the opportunities they need to realise their full academic potential'. Contextual information regarding students' educational and social backgrounds will be used to select incoming students for the three-week residential course during the September prior to their first Cambridge term, although they will still be required to meet the standard Cambridge offer.
Accommodation, travel, and meals will be fully funded by the College during the bridging course, and a bursary will also be available to compensate students for any earnings lost during their time on the course.
The College Master, Professor Christopher Kelly, has said that the bridging course is a "deliberately ambitious and decisive strategy to drive forward both the College's and the University's widening participation aims."
"The bridging course is a central part of our determination to not only encourage applicants from a wide range of social and educational backgrounds, but also give them the very best support at the start of their studies in Cambridge."
Corpus's Admissions Tutor, Dr Michael Sutherland, explained that the bridging course seeks to address the "problems surrounding access at selective universities such as Cambridge".
"The Corpus bridging course will give students the opportunity to get used to our unique way of teaching, and to further enhance core skills that will help them make a success of their time at Cambridge."
This is the latest development in widening participation efforts at the University. Last year, Cambridge announced that it would by 2020 be introducing an academically-rigorous 'foundational year' for students from under-represented backgrounds prior to their first year of study. Earlier this year, it was announced that the University would reconsider the applications of up to 100 students from under-represented backgrounds who did not receive an offer post Cambridge interview, but who exceeded their predicted grades on results day.
Harry Taylor, Corpus's JCR president, said that "this new ​programme will only help to open up the University", and that Corpus students "are looking forward with great enthusiasm to welcoming these new members of our college community."