Brunch Briefing – Week 4: Academics boycott Trinity, Emmanuel divests, and protests against J4MB
This week saw academics pledge to boycott Trinity in protest of its withdrawal from USS, Emmanuel remove investments from fossil fuels and arms, and a controversial visit by J4MB
Key stories from this week
Academics boycott Trinity of protest of decision to leave USS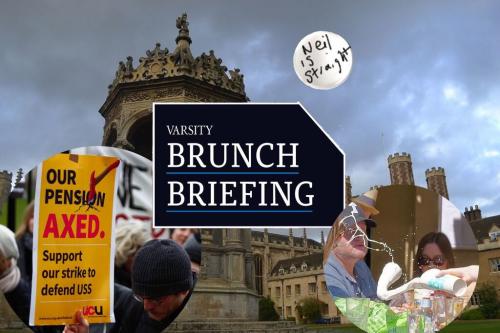 It was revealed by Varsity this week that Trinity College has voted to leave the UK pensions scheme. If another employer were to exit, the whole program's financial stability rating would face being downgraded. The College Council officially confirmed this plan on Friday, triggering outcry across the university. The decision was condemned in an open letter signed by hundreds of academics, and over 230 academics have committed to a boycott of Trinity - refusing to supervise Trinity students or participate in work to support the college in its teaching or research. Trinity has announced that it plans to set up a private system in place of USS, at the cost of an estimated £30m.
Emmanuel withdraws all fossil fuel and arms investments
Emmanuel College has become the fifth Cambridge college to withdraw all of its direct investments in fossil fuel companies, as part of a decision taken last November to keep its investment portfolio in line with the Paris Accords. Divest & Disarm Emmanuel confirmed to Varsity that all investments in companies that extract, process and export fossil fuels, including Royal Dutch Shell and Enel Spa, have been removed, along with investments in arms companies. This represents a withdrawal of over £5.7m, a figure based on data obtained by a Varsity investigation last year. Prior to this, Emmanuel had the second largest investment in the fossil fuel industry among the Oxbridge colleges which responded to FOI requests.
Students protest anti-feminist group J4MB
Student protesters barred entry to the Mill Lane lecture theatres on Friday evening in order to block members of the anti-feminist group, Justice for Men and Boys (J4MB), from entering. J4MB and the attendees of its event were able to access the building through a back entrance, but activists continued to gather. Prior to this, J4MB members and supporters, including the group's leader, Mike Buchanan, were "milkshaked" by two protestors at the Regal Wetherspoons. The protestors fled but were pursued by J4MB members before Pembroke porters intervened. This form of protest has gained publicity recently after being used against prominent political figures such as Tommy Robinson and Nigel Farage.
On a lighter note...
Cambridge Hospitals wins Twitter acclaim
Cambridge University Hospitals attained internet fame this week after humorously taking on a Twitter user who objected to the unveiling of their rainbow NHS badge. The badge was designed to show that the hospital is an open and inclusive place for those who identify as LGBT+, but not everyone was on board with this positive initiative. One twitter user, Neil, responded with the eloquent question: "how about a straight badge". True to its inclusive form, the hospital provided Neil with his own personal badge, which got straight to the point (no pun intended) in proclaiming that "Neil is straight".