Students protest against anti-feminist group J4MB outside Mill Lane
Earlier today, members of Justice for Men and Boys were "milkshaked" by activists in Wetherspoons
Around 30 students linked arms outside Mill Lane lecture theatres earlier this evening, blocking members of anti-feminist group Justice for Men and Boys (J4MB) from entering the building through this main entrance. After the group entered through a back entrance, the activists regrouped with a variety of noise-making devices, seeking to disrupt the event.
The protest is currently ongoing, and growing as further student protesters arrive.
The student activists had previously intended to occupy the building, but, when they arrived, University security staff were already stationed within the building.
The protesters initially gathered shortly after five and remained until around six o'clock, when they left briefly before returning with pots, pans and other loud items, as well as a variety of protest signs.
Police were witnessed outside the site, along with further University security, and University proctors.
While blockading the lecture theatres, the activists sung a variety of protest chants, including "Say it once, say it again, no excuse for violent men" and "solidarity forever", while members and supporters of J4MB looked on.
Those gathered to attend the scheduled J4MB event were later directed towards the back of the building complex.
A spokesperson for the student activists explained: "We believe that this space should not be given over to dangerous hate-groups that pose a threat to the security and well-being of members of the Cambridge community."
J4MB has previously told Varsity that it wears its "anti-feminism as a badge of pride", but has denied claims of having harassed and targeted individual feminists, including feminist academics at the University.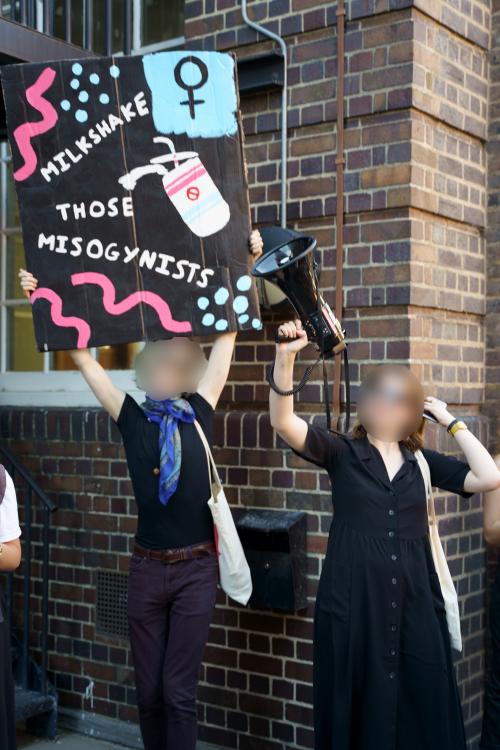 The spokesperson for the protestors continued: "The student body takes great pride in preventing J4MB from using Cambridge University to legitimise their bigotry and hate, but we deeply regret that this responsibility fell to us." They added, "We see the University's behaviour as a dereliction of their pastoral duty to students and staff, and we urge them to review their policy on the platforming of such groups. The right to free speech does not include hate speech, and we call on the University to recognise this".
Responding to this, the University said: "We respect the right to peaceful protest. However, the expression of controversial or unpopular views is not grounds for withdrawing permission for an event and Cambridge remains a place for passionate debate."
Varsity has reached out to J4MB for comment.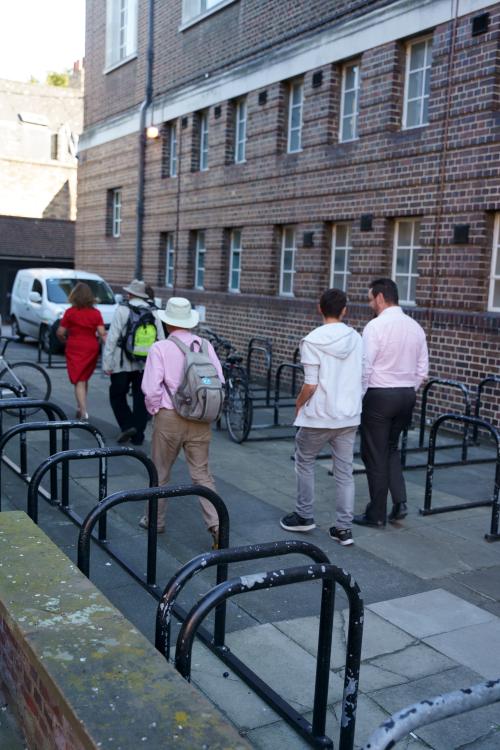 An open letter was circulated in April calling for tonight's event to be cancelled, or, failing that, to be moved to a non-departmental building. The letter criticised the decision to allow such an event to go ahead, arguing that the event is not "in line with the values and mission of the University, especially our stated core value of 'freedom from discrimination".'
CUSU Council last week passed a motion which called for a review of the means by which members of the University can raise concerns regarding events hosted by external groups on Cambridge property. The motion also included opposing the decision to allow the event hosted by J4MB to go ahead.
Responding to the motion, a spokesperson for the University told Varsity that there exists a "risk assessment form" where those responsible for receiving and processing room booking applications can input their concerns. They stated that this "is not considered under Prevent legislation".
J4MB responded: "I fail to see why we should not hold an event on departmental university premises, on commercial terms. We have a legally binding contract."
Speaking to The Guardian regarding previous opposition to the event being held on University grounds, a University spokesperson said: "Under the University's room booking policy and in line with our commitment to freedom of speech, the lawful expression of controversial or unpopular views is not grounds for withholding permission for an event."