Vince Cable visits Cambridge
The leader of the Liberal Democrats was optimistic about his party's chances, with the latest poll placing them at 16.8%, behind Labour and the Brexit Party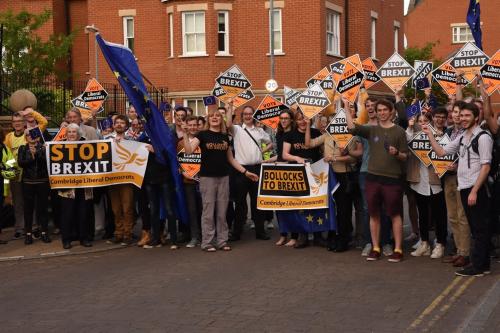 Vince Cable, the leader of the Liberal Democrat Party, spoke in Cambridge on Wednesday, on one of the last stops of his EU election campaign.
He spoke to around 60 students about the "simple, honest, unambiguous message" that his party has been fighting for since the referendum result. Cable, who has been the leader of the Liberal Democrats since July 2017, announced yesterday that he will step down in late July.
The Liberal Democrats are one of the parties espousing a strongly pro-Remain position in this election, with their "Bollocks to Brexit" campaign, alongside the Green Party and Change UK.
The election results will be announced tomorrow after 10pm, when all the European countries have finished voting.
Cable urged activists to keep up efforts during the last 24 hours of the EU election campaign, stating that they are hoping to gain two seats in the Eastern Region.
The Liberal Democrats are predicted to do relatively well in the elections. They placed third in the last polls taken before voting day, polling at 16.8%, behind Labour at 18.5% and the Brexit party at 33%.
Cable was optimistic about his party's chances, attributing this success to the "large scale desertion of the traditional Labour vote", as well as the "Heseltine factor", alluding to the announcement by former Conservative Party Deputy Minister Michael Heseltine that he would be backing the Liberal Democrats in this election.
In Cambridge, this outlook follows a strong performance amongst students at the Council Elections earlier this month. The party won almost 50% of the vote in the student-dominated seats of Market, Castle and Newnham wards.
The Liberal Democrats have been on the recovery in recent years after their time in the coalition government saw them lose popularity, polling at only 6.9% in 2014. Cable said that he hoped the Liberal Democrats had finally "broken through a barrier" in the public view of the party.
Cable's itinerary on the last day of the campaign included a stop in Edinburgh and a Telegraph podcast debate with Nigel Farage.  
Last week also saw Jo Swinson, the deputy leader of the Liberal Democrats, visit Ross Street Community Centre in Cambridge. She described the election as a fight for "what kind of country we are".
A spokesperson for the Cambridge University Liberal Association (CULA) told Varsity: "The fact that we've had such a big turn out for Vince from the students shows that the Lib Dems are the real party of young people."
CULA added that they believe the Liberal Democrats are "standing up for progressive internationalism" in this election and "refusing to concede anything to Farage and to his Brexit ultra nationalists".