Police accused of 'lies' after videos contradict their statement over Boat Race protest
The Metropolitan Police claimed "no items were seized", but videos and photos show them taking a bag containing a banner and confiscating zip ties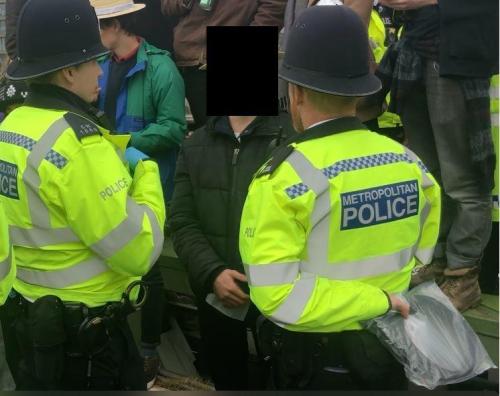 Video evidence revealed that the Metropolitan Police has confiscated items from climate activists during their intervention at the proposed banner drop during this year's Oxford vs Cambridge Boat Race in London, despite claiming not to have done so.
Zero Carbon and Oxford Climate Justice Campaign planned to drop a 20-metre banner displaying "Oxbridge Come Clean" over Hammersmith Bridge in protest of the two universities' investments in fossil fuel industries.
The Metropolitan Police told Oxford Mail in a statement regarding their intervention that "Officers became concerned about people in the crowded area potentially being in possession of fireworks and causing a safety hazard to those in the vicinity. A number of other individuals were also seen acting suspiciously.
"As a result, three men and four women were stop and searched under Section 1 of the Police and Criminal Evidence Act. No items were seized and no arrests were made."
However, a video from Varsity documenting the protest showed a police officer taking away the bag containing the banner.
When approached for comment regarding the video evidence, a spokesperson from the Metropolitan Police initially told Oxford Mail that "the banner wasn't taken away from protesters", but later conceded that "some items were temporarily held whilst officers carried out a number of searches" while insisting that "no items were seized by police."
Protesters confirmed that the banner was returned, however cable ties that were to be used to hang the banner were permanently taken by police.
Video footage shows the police taking large quantities of cable ties from protesters, that were to be used to hang the banner from the bridge. Police at the scene justified this on the grounds that they could be used to "commit criminal damage to the bridge".
However, despite police claims on the potential "safety hazards" and disruption the protest could cause the race, Oxford supporters were allowed to hang a smaller banner reading "Go Lizzie!" throughout the women's race.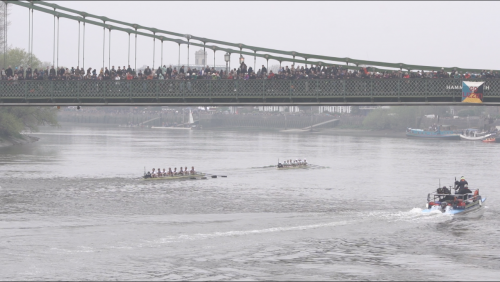 Zero Carbon and Oxford Climate Justice Campaign "strongly condemn the lies about seized property issued by an official spokesperson of the Met Police" in a joint statement.
"This messy attempt to hide the truth about police heavy-handedness demonstrates that even the Met's own representatives are aware that officers were entirely unjustified in their repression of our peaceful, legal protest."
"Our intention was not to disrupt or to damage, and in fact our protest was meticulously planned not to disturb the racers. Rather, our goal was to use a public platform to call upon our universities to remove their untenable investments in fossil fuel companies."
They continued by calling the Metropolitan Police's actions "deeply embarrassing" and called on the police to "make a full apology for their actions, and subsequent misrepresentations."