Toope calls for 'financial discipline' in face of predicted £30m deficit
Although the Vice-Chancellor has described the calculated deficit as "manageable in the short term", he has argued it is "not sustainable in the longer term"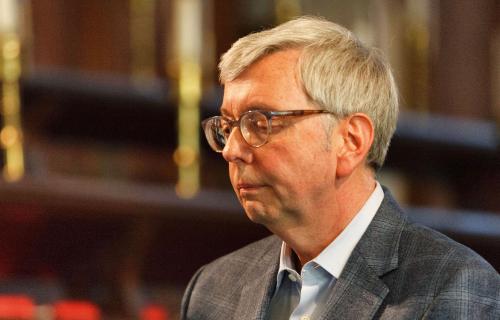 Vice-Chancellor Stephen Toope has warned that the University is headed for a £30m deficit, in an email to staff on Tuesday, as well as on a post published today on his blog on the University of Cambridge website.
Vice-Chancellor Stephen Toope wrote in his blog post that "[the University's budget] position is deteriorating despite efforts to control spending over the last few years."
Toope explained in his email to staff, partly published in Times Higher Education, that this year's deficit estimate was calculated as part of a ten-year budget projection completed by the University in February, which "confirmed that we are now running an annual cash operating deficit of roughly £30m on a total combined… budget of £1.25bn."
Toope described the calculated deficit as "manageable in the short term" but "not sustainable in the longer term".
"We must act now so that we do not dig ourselves into a hole, and put the onus on future generations to solve a much bigger problem," said Toope in both the email to staff and his blog post.
In order to address budgetary concerns, Toope called for "financial discipline now", stating that the University needs to "take some clear decisions on where to prioritise its spending and investment, and how to maximise its revenue."
He added that "it's not just a question of cutting costs wherever it is most convenient", as the University "must do our utmost to support the extraordinary and committed staff who underpin Cambridge's world renown."
Toope's blog post explained: "One of the University's great strengths is its ability to seek out and develop new areas of academic endeavour. But these areas of new endeavour are rarely fully funded. This means that we need a clear-sighted view on what activities to stop as we expand into new areas. And where we do expand we need to ensure that costs are fully covered.
"In administrative terms... we need simpler processes, with the right tools and systems to do the job."
Political uncertainties were cited in the email as a cause for budgetary concern, particularly Brexit, which may mean "investments in higher education may be reduced or at least remain stagnant".
Toope also pointed to the upcoming Augar review, an examination of post-18 education commissioned by the government and led by Philip Augar. Publication of the review's report is expected this year and it has been suggested that the report may recommend a reduction in the tuition fees of English universities. Toope argued that unless the government can supplement the loss of income which this would precipitate for higher education institutions, the sector may see an overall decline in funding.
A University spokesperson told Varsity that "pressures on budgets are increasing, both because of internal funding pressures and external uncertainties.
"While a cash deficit was foreseen, a growing deficit is not sustainable over the long-term, hence the need to make savings, increase revenue, simplify processes and decide which activities are a priority.
"The University of Cambridge may not depend on government and tuition-related funding as heavily as many other UK universities do, but it still needs to be prudent in its budget planning."
The Cambridge University and College Union (UCU), however, has criticised Toope's call for financial discipline, commenting that "Toope's call is troubling and disingenuous. Troubling because in calling for 'financial discipline' he gives no sense of the principles (as opposed to financial calculations) that will guide decisions about budgets and planning. He provides no commitments to safeguard equality, fairness or access.
"Disingenuous because it presents only external financial pressures on the University, neglecting to mention the University's own policy and budgeting failures, including decisions around major capital expenditure for the NW Cambridge site (Eddington)... Given the major cost overruns involved at Eddington there are serious questions about the University's ability to competently 'provide more affordable housing for staff' in a city where it is itself responsible for driving up housing costs."
It added: "In recent years staff have made great sacrifices on pay, pensions and workload, while the University as a whole has enjoyed significant real income growth. It is not viable or fair to ask staff to sacrifice yet more. Senior pay in Cambridge have risen much faster than the median... If we're going to talk about 'financial discipline' then let's start start with a commitment that senior salaries will not increase any faster than those across the rest of the university."
This article was updated on Monday 25 March 20:25 to include comment from Cambridge UCU.