Hundreds of Cambridge schoolchildren strike in protest of climate change
The strike was part of a UK-wide strike organised by environmental advocacy group YouthStrike4Climate, following the example of similar protests around the world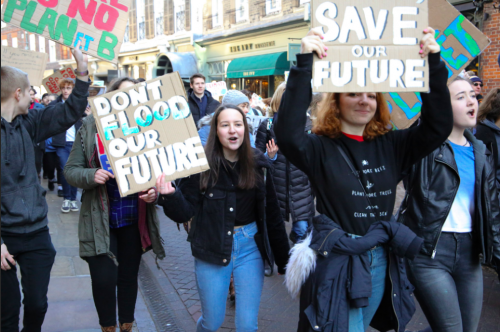 "Sea levels are rising – so are we!" and "Please don't let our planet die, climate change is not a lie!" were just some of the slogans being chanted in the streets of Cambridge on yesertday morning as hundreds of people, largely of secondary school age, marched through the city centre.
The protest was part of a broader nationwide mobilization which saw young people across the country go on strike from their schools, swapping a morning of lessons for mass rallies urging government action to combat the climate crisis. Organized by environmental advocacy group YouthStrike4Climate, this was the first UK-wide strike, but it followed in the footsteps of similar protests which have been happening around the world. These have been largely modelled on the protests of Greta Thunberg, a sixteen-year old Swedish activist who has spent every Friday since last August camped outside Sweden's parliament, and has since spoken at the UN Climate Conference and the World Economic Forum in Davos.
The protest began at 9:30 at Shire Hall before participants marched through the city waving placards and bringing traffic to a halt. When they reached Market Square the protestors gathered outside the Guildhall and took turns using a loudspeaker to rally the crowd. The speakers were predominantly of secondary school age, reflecting the fact that the march was organized mostly by the young people who attended it. More experienced groups such as Extinction Rebellion and Cambridge Zero Carbon Society lent publicity assistance where needed.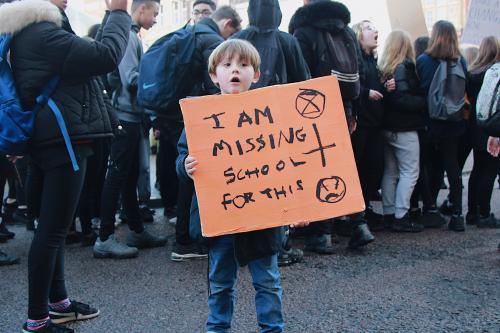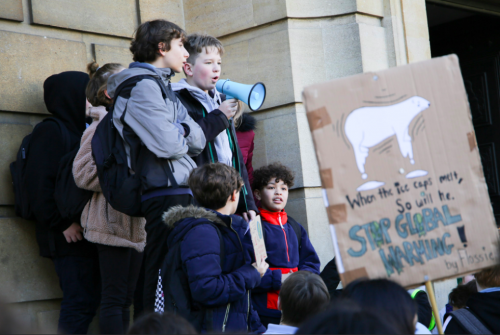 Among those to address the crowd were sisters Samaya and Ella Hone who urged the government to remember its duty to protect young people's futures and recognize its responsibility to fix the climate crisis: "We are young, we are here and we will be heard."
Labour councillor Kevin Blencowe also delivered a statement, telling listeners that two motions urging the city to declare a climate emergency would be proposed at a council meeting next Thursday. The motion, to be offered by councillor Rosy Moore, states that 'We want and we need to be doing more to tackle this climate emergency, and we know that with Government leadership (that is currently absent) we could be achieving zero carbon far sooner.' The only other adult to speak was Angelica Donner who detailed the destructive effects of drilling by British and American companies in Colombia.
Nathan Williams of the Cambridge branch of Extinction Rebellion told Varsity that the fact that children needed to be the ones to protest was a "horrendous moral failing by adults", noting that "some of the pupils here might not be able to vote for another ten, twelve, fourteen years and by that point, if we don't take serious action, things are going to be so screwed up for them that they may not be able to make any meaningful changes…clearly they understand that and that's why they're out here today."
Among the attendees, there were many who felt frustrated by what they saw as government inattention to was likely to be a defining issue of their future. Liddy, 16, cited to the "apocalyptic" consequences of climate change she'd seen in the news as a reason for participating in the strike, and described the lack of action and urgency felt by some when it came to addressing the issue as "wilful ignorance."
Also in attendance was Caroline Shaheera Asante, an environmental scientist and founder of the Cambridge Eco-Living Festival. She stressed the importance of children having their voices heard and expressed hope that this march could be the beginning of something bigger: "If you get children at a really young age to understand that they have an important role in society and their future then they will always grow up to be responsible in terms of knowing that they can change things."
In a comment echoed by other protestors, her son Shane, aged 12, said climate change was not being discussed enough in schools, adding "This is one of my first protests and it's not going to be my last."