Hibo Wardere: 'The obstacles that I face are a part of what drives me'
Daniella Adeluwoye talks to Hibo Wardere about her work combatting FGM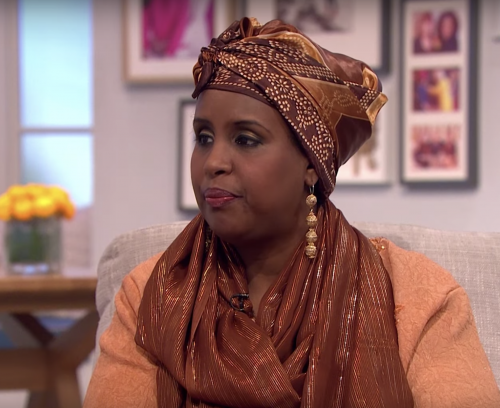 CN: This article discusses FGM (Female Genital Mutilation)
Hibo Wardere has a way with words. Speaking at Caius diversity day, her words roll effortlessly off of her tongue. As students attentively nod in chorus to her speech, she closes her address by encouraging us to recognise that whenever we encounter any form of struggle, we should find our source of motivation in the fact that we are doing it for the generation after us.
Wardere, a Somali-born campaigner against female genital mutilation (FGM), finds her motivation in the generation of women after her. She campaigns against FGM so that they do not have to endure the pain she herself experienced when she was six years old.
When I ask whether Wardere has encountered any obstacles and challenges while campaigning against FGM, she shares that has been accused of becoming too "Westernised" and of having abandoned her religion.
"It comes with a lot of heartache, but for me, every time I feel like I am being attacked, left, right and centre, I remember my six-year-old self, and then I remember all the 200 million women who have undergone FGM.
"I remember every seven seconds a girl somewhere is being cut: she is either dead, dying or altered for life. Then I don't have time to think about the criticism."
Wardere is a survivor of type three FGM and her activist work has made her one of Britain's most prominent campaigners on the issue. She tells me how grateful she is that her daughters don't have the problems that she had when she was their age.
"It just makes me feel absolutely accomplished and I just keep on going. They're a source of my energy."
Wardere emphasises that campaigns against FGM should be led by survivors like herself. "What people often forget is that this is a practice that been in our communities for thousands of years. It needs time, it needs resources, it needs trust. It needs the community at the heart of the issue, as they must trust you in order to work with you."
Activist work has focused on raising awareness of the fact that FGM is a form of gender-based violence, highlighting how the practice is entrenched in gender inequality as an attempt at controlling women's sexuality. Common reasons behind FGM are the preservation of virginity, enhancement of male sexual pleasure and notions of the suitability or appeal of a woman for marriage. However, the current Western portrayal of female circumcision as 'primitive,' with horrifying mothers, cruel fathers and helpless daughters fails to engage these communities.
"It needs the community at the heart of the issue as they must trust you in order to work with you"
Women like Wardere assume the role of a mediator and educator. "It's extremely important that these communities have somebody from within who has the courage to talk about it."
FGM is a very contentious issue amongst feminists, where the practice attracts wide-ranging opinions. When I mention Germaine Greer, I am immediately greeted with an exasperated sigh. Greer has commented that attempts to eradicate the ritual cutting would be "an attack on cultural identity." She has argued that "one man's beautification is another man's mutilation."
Wardere expresses the frustration she feels towards feminists such as Greer as "this is an issue for humanity. It's a humanitarian issue, it's a violation." 
Individuals opposed to combating FGM have accused activists of cultural colonialism through their imposition of 'Western standards' upon communities in which FGM is common. There is a tension between recognising human rights and not wanting to impose moral standards on another culture. We need to be self-reflexive and understand that morality is a production of social processes – our moral standards are a production of our geo-political institutions. However, we must remember that FGM is violence.
Wardere emphasises that it is important not to slip into the grounds of moral relativism – we should not shy away from actively criticising practices that are harmful for fear of not respecting a community's culture. FGM is a practice which needs to be criticised and challenged so that its harmful perpetuation might be eradicated.  Some may be reluctant to impose their Western standards on other communities because historically, this has been attached with the heavy burden of colonialism and imperialism. By criticising a culture's practices it inevitably positions the West in a morally righteous position. While FGM is undoubtedly deplorable to us by almost any standards, we have to understand how deeply cemented the practice is within particular communities. This is why it is important for women like Wardere to lead the discussion, where she is in the position to navigate the two spheres.
What tends to be the problem within communities that continue to practise FGM is that they are simply conforming to a deeply entrenched societal norm. Wardere believes that this needs to be challenged.
"I challenge my own community especially when I'm talking to the women: I ask them why is it only females, why is it us that need to be ripped apart, sealed, to the point where you can't even urinate properly? Why do you want to perpetuate that?" It is fundamental for Wardere to be engaging in these critical conversations with her community.
"Our traditions are beautiful. We have great food and we have great attire to wear. All these things are amazing parts of our traditions. But when the culture practised is hurting and is causing death, you're basically handing down a life sentence of pain. We need to challenge it and we need to challenge it deep within ourselves, not anybody else from the outside. Ourselves, we need to start having this conversation."
Wardere wants her community to understand that FGM should not be perpetuated in fear that daughters will be socially excluded or stigmatised for not carrying out the ritual cutting. Her efforts focus on visiting schools and raising awareness amongst the younger generation. "The youth today are the most important part of eradicating this vicious cycle. They are the ones that we need to equip with information and education."
"The youth today are the most important part of eradicating this vicious cycle"
This month, a mother who mutilated her three-year old daughter was found guilty of FGM. She was also the first person in the UK to be successfully prosecuted. I express my surprise at this revelation considering the fact that FGM has been illegal in the UK since 1985. I ask Wardere why she thinks it has taken over three decades for the first successful prosecution. "What they miserably failed to do was to inform the community that live in the UK about this law. The community didn't know anything about the law because our community don't have the vocabulary of child abuse."
Wardere explains that this is simply because FGM is considered a cultural practice and thus, it is rarely challenged. However, she points out that this "landmark case" is a "historical moment" to changing perceptions towards FGM. Her goal is for FGM to be eradicated within her lifetime.
Survivors of FGM are reluctant to report their parents because they know that they don't cut their children out of hate and thus are reluctant to implicate their own parents. Wardere tells me that she forgave her mother a long time ago, but she says that even today questions remain: "How did you manage to ignore my screams? How did you mute me out? It's a question that I would really love her to tell me. But then I already know the answer. The answer is that she didn't think what she was doing was wrong."
Wardere wants to change this attitude and break the practice of FGM, one girl at a time. While the international community continues to rightfully deplore the practice of FGM, Wardere continues to look for actions that will actually have substantive change such as raising awareness amongst her community.
"Patience is huge. Most importantly building trust is huge. And for me if they close the door, I can't just leave, I have to keep on knocking at the door because those are my people. So for me the obstacles that I face is part of what drives me."
If you are affected by any of the issues raised in this article or are aware of anyone who may be at risk, Childline provides a specialist helpline, while the NHS provides specialist healthcare and NHS Choices provides a more comprehensive list of resources.