NUS elections suspended as organisation faces bankruptcy
"It was felt that it would not be fair to ask candidates to run for a role without a guarantee that NUS can afford to fund that role", said an NUS spokesperson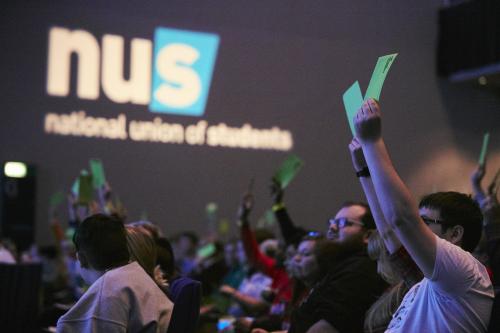 The National Union of Students (NUS) has suspended all scheduled elections, as a result of its precarious financial situation.
The NUS is facing a projected deficit of £3 million this year, and is currently considering a range of cost-cutting measures. All NUS UK elections will be affected, including those for full-time roles, national roles, liberation roles, section roles, and committee roles.
An NUS spokesperson explained the decision to suspend the elections was taken "because it was felt that it would not be fair to ask candidates to run for a role without a guarantee that NUS can afford to fund that role."
They explained that "in light of NUS' current financial position" the matter of NUS elections for full time officers was referred to the Chief Returning Officer, Jules Mason, who is responsible for agreeing and publishing all elections rules and ensuring fairness.
As a consequence of Mason's ruling on the issue, the NUS has put on hold all elections for full time officers until after a planned NUS UK board meeting on 16 January 2019, in which a budget for 2019/20 will be set.
The NUS spokesperson affirmed that, once a decision has been made on the budget, elections will be run "as close to the original rules as possible."  
Mason sent a letter to all candidates who had submitted nominations for NUS positions, informing them of his ruling.
In the letter, which has since been made public, Mason noted that his ruling "may come as shock" to some of the candidates. He added: "You may feel like this is an extraordinary step for NUS' Boards and the Chief Returning Officer to take. In response, I would say that these are extraordinary times: NUS is clearly facing a number of serious financial challenges which at worst could result in insolvency."
At the beginning of November, a letter from NUS President Shakira Martin, and acting chief executive, Peter Robertson, to the group's 600 affiliated student unions warned that the organisation may need to mortgage its headquarters, cut staff and make "radical reforms" in order to remain solvent.
Earlier this month, activists raised concerns over the NUS' consideration of proposals to scrap liberation officer roles, representing BME, LGBT+, trans, disabled, and women students. These proposals were discussed at a summit with student union presidents and NUS staff, arranged to discuss potential radical changes to the democratic and corporate structures of the NUS in in an attempt to cut costs and plug its large deficit.
Although noting that these proposals were not hard and fast, but simply "people throwing ideas out there", CUSU President Evie Aspinall warned that removing liberation officers would be "very dangerous, in the sense it will curtail the NUS' ability to do its core functions and protect students."
Some students' unions have demonstrated a lack of confidence in the NUS going forward, with the University of Plymouth Students' Union voting last week to disaffiliate from the organisation, along with Newcastle University.
The Student Left Network, a newly formed student coalition, is currently calling for a motion of no confidence against NUS President Shakira Martin due to her handling of the crisis currently facing the organisation.