Kate Gilmore on sexual violence: 'the more power you have, the less accountable you feel'
The UN Deputy High Commissioner for Human Rights talks to Hana Abas about the relationship between sexual violence and wider structures of power and domination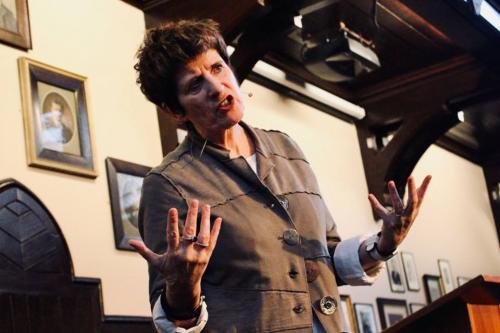 Kate Gilmore is outraged. Pacing the stage of the Cambridge Union with a restless energy, her voice rises to a shout as she urges the student audience to "face your privilege and take responsibility". From the moment Gilmore enters the room, it is clear that this is not your regular Union talk. It is impossible to listen to her speak without being forced to ask yourself some deeply uncomfortable, personal questions. But Gilmore is not here to make us feel comfortable. This is not easy listening – this is a challenge. In her own words: "If you have no outrage, shame on you".
As the United Nations Deputy High Commissioner for Human Rights, Gilmore is one of the most powerful women in the UN. Her work over the years has been marked by a focus on the prevention of violence against women. Having started her career as a social worker and government policy officer in Australia, Gilmore was instrumental in the establishing of Australia's first Centre Against Sexual Assault at Melbourne's Royal Women's Hospital.
Gilmore tells me that this "direct exposure" to violence so early on in her work gave her an understanding and awareness of suffering that she has carried with her throughout her career, describing it as a "moral grounding in the nature of pain." She recounts in particular sitting with women being examined for forensic evidence following sexual assault, a process she describes as the "most intrusive and potentially dehumanising experience" for victims, and tells me that to this day she continues to "draw a lot" from the suffering and grief she witnessed.
"By definition, a silence means you're not alone"
But Gilmore is keen to emphasise that she does not view her work in this area as "specialism" in any way, rather, she sees the issue of violence against women as being at the heart of a wider question of "how we should treat each other". Her work as deputy commissioner, she tells me, is to "disturb settled patterns" and "break it open" – to question and challenge the demography of power. It is therefore inevitable that her focus in attempting to shatter these fixed structures of power should be violence against women, one of the "dominant ways in which dominance manifests". It quickly becomes clear that it is an opposition to this dominance that fuels Gilmore, that angers her.
Later, while delivering her speech at the Union, she describes her eighteen-year-old self as having a passion quite simply for "outrage" at the ways in which power was and continues to be held within society. The focus of her work may be women - but it takes only two minutes of listening to Gilmore speak to realise that this focus is rooted in something much deeper.
The humanitarian sector is currently under fire. A recent wave of allegations has revealed a culture of widespread sexual abuse of workers within the sector, with research conducted by two advocacy groups in 2016 suggesting that half of female aid workers had experienced unwanted touching from male colleagues while working. Gilmore was subsequently appointed by the Inter-Agency Standing Committee to lead a working group dedicated to investigating these allegations, and in 2017 condemned a culture of "toxic tolerance" of this issue within the sector.
"The more power you have, the more freedom you feel to be cruel, mean, dismissive, disregarding"
One year on, Gilmore's words are equally condemnatory; addressing the audience at the Union, she describes the sexual harassment and abuse of aid workers as "shameful", and to be "denounced with every fibre of our being". I ask her what progress she thinks has been made since the allegations first emerged. She is cautiously optimistic, telling me that the allegations have resulted in a "hyperactivity in policy" and increased awareness of the issue, leading to a "lot of progress".
Gilmore speaks passionately about the power of social movements and their potential to effect widespread change, saying "if people speak out, others join". She emphasises in particular the importance of collective action, pointing out that "by definition, a silence means you're not alone". As soon as a silence is broken, there will inevitably be a "crowd coming behind". The key to change, she tells me, is realising that there are others who share your experiences and to draw from that - to realise that "taboos aren't for just one person, they're for whole groups".
Cambridge turns out to Reclaim the NightVarsity
However, Gilmore is quick to emphasise that the practical implications of this "hyperactivity" remain uncertain, telling me that it is somewhat unclear whether it will actually translate into "better practice on the ground" and "greater dignity" for victims. While Gilmore acknowledges that there has been an undeniably positive "shift", she stresses that the crucial challenge for both the humanitarian sector and beyond is to "sustain" this shift in order to ensure that it converts into meaningful change.
Gilmore is also wary of isolating sexual violence from the broader question to which it pertains. She warns that as a society, we are at risk of "exceptionalising" sexual violence by treating it as a "defined and separate set of behaviour". The reality, she tells me, is more complicated. For Gilmore, sexual violence is simply one manifestation of the deeper question of "what's happening to power". Alongside racism, homophobia, ageism and other forms of "bullying and cruelty", it is symptomatic of power that is "not accountable and not scrutinised". Consequently, in order to address it, the "root cause" must be tackled.
Gilmore sees the root cause as being the "perverse" power structure which is embedded into the "fabric of society" – a structure that means "the more power you have, the more freedom you feel to be cruel, mean, dismissive, disregarding. The more power you have, the less accountable you feel". While tackling gender-based violence is an integral part of shattering this power structure, it is only one part: meaningful change requires us to look deeper than this, into the very essence of our society.