PalSoc criticises planned MENAF event with controversial Israeli politician Naftali Bennett
Bennett, leader of the political party Jewish Home, has said he will do everything in his power to prevent the formation of a Palestinian state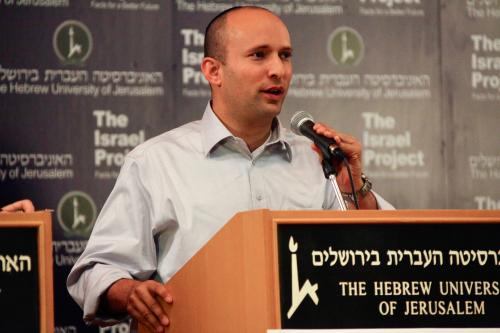 Cambridge University Palestine Society (PalSoc) has condemned the decision by Cambridge's Middle East and North Africa Forum (MENAF) to host Naftali Bennett, leader of the right-wing religious Bayit Yehudi (Jewish Home) Party, on November 19th.
A spokesperson for PalSoc has urged MENAF to cancel the event, saying: "There is no place for Naftali Bennett and his violent, colonial politics of hate in Cambridge."
He added: "Bennett declared in 2013: 'I have killed lots of Arabs in my life – and there is no problem with that.' Earlier this year, [Bennett] advocated the extra-judicial murder of Palestinian protestors, including children, and has said in reference to African migrants said that 'We have to… take out the infiltrators.'"
---
Got a story for us?
Seen something you think Varsity should be talking about? Contact our News team at news@varsity.co.uk.
---
Bennett, a millionaire software entrepreneur and former army commander, has openly endorsed the Israeli annexation of Area C of the West Bank and consistently supported the creation of Israeli settlements in the West Bank, serving as director of the Yesha Council – the main political body of the settler movement – from 2010 to 2012. 
Speaking to Varsity on the event, a MENAF committee representative said: "Naftali Bennett is a rising star in Israeli politics and represents the views of a sizable portion of the Israeli population and its government." The MENAF event will be a conversation between Bennett, and Donald Macintyre, The Independent's Jerusalem editor.
Stating that Bennett had reached out to them to host the event, MENAF added, "his view is one that many disagree with, but it cannot be said that it is one not worth hearing. Mr. Macintyre is an acclaimed, experienced journalist who will take a highly critical angle of Mr. Bennett's politics and public record."
MENAF has previously hosted senior Israeli diplomats, such as Israeli Ambassador to the United Kingdom, Mark Regev, in November 2016.
Speaking to Varsity, the MENAF representative said that the forum "do not endorse the speakers we host", adding that the objective of hosting events like the upcoming one is "for students to be exposed to a range of view-points and process them critically."
Bennett has publicly opposed the creation of a sovereign Palestinian state along the 1949 Green Lines. He said in September 2018 that he would leave the government if a Palestinian state was ever created, saying on Twitter: "As long as the Bayit Yehudi is in the government, there will be no Palestinian state. That would be a disaster for Israel."
Varsity has reached out to Naftali Bennett for comment.
A spokesperson for PalSoc argued: "Bennett's response to the white supremacist massacre at a synagogue in Pittsburgh included a disgraceful defence of Donald Trump. Given their track record, we are not surprised MENAF invited Bennett, but we nonetheless urge them to cancel the event."
They added, "the far-right extremism and violent colonial racism Bennett represents are antithetical to the values of freedom, tolerance and equality held to by most in Cambridge."
MENAF argued that PalSoc's call to cancel Bennett's invitation was "intellectually inconsistent", that a society which has "frequently faced the consequences of PREVENT legislation, would enlist a no-platforming strategy against a speaker they happen to deem as being 'too extreme.'"
MENAF has previously come under criticism for the funding they received from the media-monitoring and research organisation Committee for Accuracy in Middle East Reporting in America (CAMERA). Widely held as a pro-Israel organisation, one of CAMERA's "core values" is stated to be "an unshakeable belief in the causes of Zionism and Israel." CAMERA gave financial support to MENAF for hosting two Israeli speakers in the first month of their existence, October 2016.
The MENAF committee representative told Varsity that "MENAF is not sponsored by CAMERA and neither is this event", and that the society both "has not had events sponsored by CAMERA for nearly two years now, and we do not plan on working with them in the future."