Oxcam activists don masks of politicians to protest UK arm sales to Saudi Arabia
Protesters wore masks bearing the faces of Theresa May, Boris Johnson and Jeremy Hunt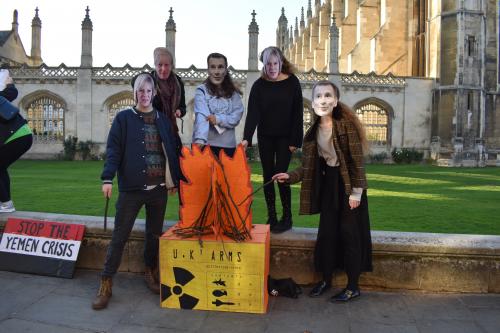 This afternoon, student activist group Oxfam Cambridge University (Oxcam) staged a demonstration calling for the suspension of British arms sales to the Saudi Coalition, citing these deals as primary causes of civilian casualties in the ongoing conflict in Yemen.
More than ten Oxcam members attended the demonstration, some donning masks bearing the faces of prominent British politicians – including Theresa May, Boris Johnson and Jeremy Hunt –  and pretending to stoke a replica fire to represent "our politicians fuelling the fire [in Yemen]".
Alongside the visual aspect of the demonstration, campaigners attempted to encourage passersby to sign a petition, which is to be presented to Parliament by Cambridge MP Daniel Zeichner, gaining 86 signatures by the end of the two-hour-long demonstration on King's Parade.
Explaining the motivation for the demonstration, Oxcam president Eliza Harry said,"we definitely wanted to continue to raise awareness of the Yemen crisis"  but also expressed a desire "to do something more concrete, which is going to be this petition."
According to Oxfam's data, the Civil War in Yemen, fought primarily between Houthi and pro-Saleh forces in the West and the Saudi-backed Hadi Government in the East, has claimed the life of one civilian every three hours since the beginning of August. During this afternoon's demonstration, campaigners distributed leaflets bearing this statistic, among others, along with information on how to contribute to their campaign to cease the UK's arm sales to Saudi Arabia.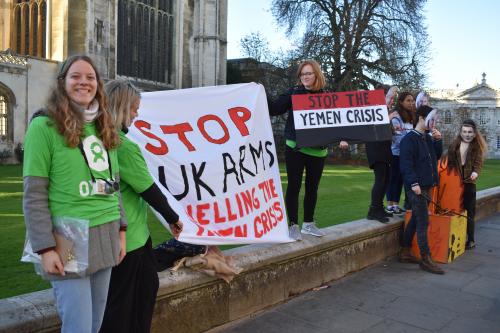 "We are first of all raising awareness about the civil war, because a lot of people don't know about it", Campaigns Officer Théa Augustidis told Varsity, branding the conflict's lack of media coverage as "outrageous and awful".
The Saudi-backed Hadi government is aided by the support of the UK, USA and France, whose existing arms deals are seen to be elongating the conflict and placing civilian life in greater danger.
Augustidis said that although similar petitions have been presented to government with limited success, adding to this pressure and raising awareness can "only be positive". Oxcam partly views the campaign as educational, attempting to garner public sympathy for the crisis. "With this campaign, what is key is that we care because it is our own government fuelling the conflict."
Augustidis said that, in her view, the protest's reception was "generally very good", adding that although many people already seemed aware of the situation,"there was a moment where one of the Oxcam members was teaching a young girl about what's happening in Yemen."
Today's demonstration forms part of an ongoing campaign by Oxcam. In March, the group, along with the King's Politics society, co-organised a panel discussion entitled 'British Aid & British Arms: A Coherent Approach to Yemen?'.