Cambridge's Jewish community mourns victims of Pittsburgh shooting
In the wake of the worst anti-Semitic attack in US history, Cambridge's Jewish community have jointly organised a vigil for the victims of the massacre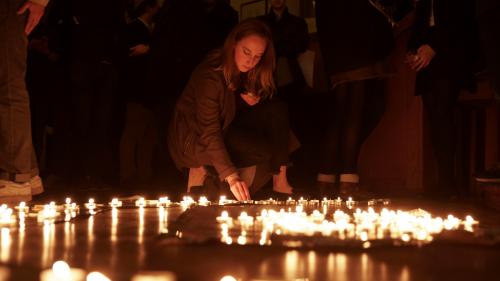 Content note: This article contains descriptions of anti-Semitic violence
On Thursday evening, members of Cambridge's Jewish and non-Jewish communities attended a vigil held in memorial for the victims of the Tree of Life Synagogue massacre in Pittsburgh.
Over 60 students took part in the vigil at the Cambridge Jewish Student Centre, where attendees held two minutes of silence after reading the names of the 11 victims of the shooting, and read out a poem by Russian Jewish poet Osip Emilyevich Mandelstam.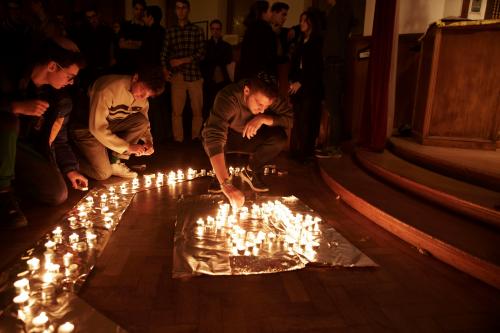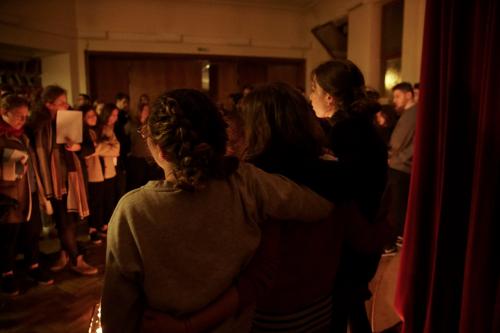 "When somebody dies, for seven days the community gathers together and we support them, because when we lose somebody, we lose our place in the world", said Rabbi Mordechai Zeller, one of the Jewish Chaplains for Cambridge and East Anglia universities, speaking to Varsity earlier this week. Rabbi Zeller said how members of Cambridge's Jewish community, both those religious and non-religious, have been processing and grappling with the Pittsburgh shooting, since the news first broke on Saturday.
He said many Jewish Cambridge students had been "shaken up" by news of the attack. "When trauma happens, when an accident happens a second after we cross the street we say, 'that could've been me.'
"There's often something very human in the process of having empathy for another person, part of that is imagining ourselves there", he added.
"To me, a synagogue is meant to be a safe space"
On Saturday morning in a synagogue in Pittsburgh, a man carrying an AR-15- style assault rifle opened fire while shouting anti-Semitic slurs, killing 11 worshippers and injuring several others. The massacre – believed to be the deadliest attack ever committed against a Jewish community in the United States – reverberated across Jewish communities within the country and abroad.
"It's been a tough week", said Rabbi Zeller. "To me, a synagogue is meant to be a safe space, it's meant to be a sacred space, and to think that people who gather together to pray and to worship – which is something that is so personal and communal – to think that they were killed just for being Jewish is heartbreaking".
"I'm nervous of claiming it as my trauma", said Alfie Rosenbaum, one of the student organisers of the vigil, describing her difficulties articulating her emotional response to the attack: "I do think it's scary to see other people being targeted for an identity that you share, but it's a complicated one to navigate, how you talk about it".
Several memorial services have been held in Cambridge over the last week, and counselling has been offered for Jewish students emotionally affected by news of the attack. A service held on Monday evening at Beth Shalom, a reformist synagogue, was attended by around 70 students and Cambridge residents, as well as members of a Cambridge interfaith group and members of the Cambridge Muslim Trust.
Jesus College Chaplain Paul Dominiak organised a memorial service on Tuesday evening at the college chapel alongside Ariel Cohen, co-president of the Jesus College Jewish Society, where several student members of collegiate Jewish societies in Cambridge spoke and led prayers in English, Hebrew, and Aramaic.
"We're still standing, united against all this anti-semitism, this racism, and we just want to build, and to grow"
The planning of the vigil brought together what several students described as a "fragmented" Jewish community within Cambridge, organised by members of Cambridge University Jewish Society (JSoc) and Bad Jews of Cambridge, an alternative Jewish collective at the University.
Co-president of JSoc Ellesheva Kissin described organising the vigil as the "perfect opportunity for these two groups who are different in their outlook, but both Jewish and both proudly Jewish, to come together and to show solidarity".
"It means a lot of different things, to different people, to be Jewish," added Rosenbaum, who said that the vigil was intended to be a space for Cambridge's Jewish community to "process the feelings we all have about the attack".
"It's powerful to look back into ancient texts and to see the same attacks being repeated through history and the same Jewish response being repeated through history", said Kissin, describing the reading of tehillim, or psalms, at memorial services.
Speaking to Varsity before the vigil, Kissin expressed her hope that the "collective memory of Jews always saying those words" would be a "powerful illustration of [how] we're still here, we're still standing, united against all this anti-semitism, this racism, and we just want to build, and to grow, and to help combat racism in all its forms".
Organisers of the vigil have set up a fundraising page to raise donations for the Cambridge Convoy Refugee Action Group (CamCRAG), a local Cambridge charity which regularly sends volunteers to refugee camps in Europe, and HIAS, a humanitarian aid organisation for refugees with which the synagogue in Pittsburgh which was attacked had connections. The organisers said that they will be committing themselves "to the ongoing fight against fascism, anti-semitism, and racism in all its forms".
"I would like to see an ongoing resistance to fascism and racism in Cambridge whatever that looks like, either from a Jewish perspective or from any other perspective", said Rosenbaum.
She added her hope that awareness of a Jewish perspective in anti-fascist organisation: "It's really important that there is a Jewish presence in anti-fascist resistance because Jews obviously are victims of fascism, have been victims of fascism, and will continue to be victims of fascism… it's really important that that narrative is included in whatever organising does take place".