NUS delegate candidates go head to head in hustings
The elected delegates will elect the national committee and vote on national policy at the NUS conference in April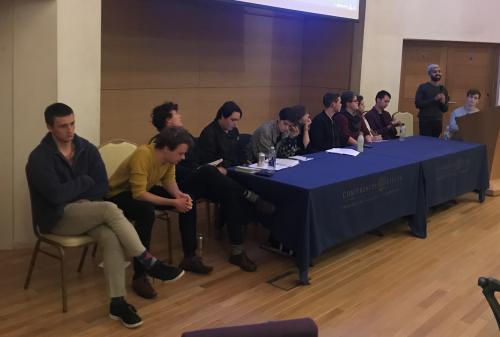 Candidates in the upcoming elections for delegates to the National Union of Students' (NUS) annual conference participated in a hustings on Monday evening. They focussed on issues such as Brexit, the marketisation of higher education, and welfare.
11 candidates are running for the five positions to the upcoming NUS conference, taking place next April in Glasgow. The delegates will be joined by CUSU president Evie Aspinall. The delegates must be gender-balanced, meaning at least two elected candidates must identify as female.
The successfully elected delegates will elect the national committee and vote on national policy at the NUS conference in April.
The candidates each gave a short presentation explaining why they would be a suitable delegate if elected, and then answered questions on what they considered to be the worst quality of the NUS currently, and how they would remedy it. They were also asked what they thought was the biggest issue facing students today.
The lack of coordination and communication within the NUS was often brought up as a key issue, with several candidates concluding that this led to many students being unaware of the organisation and what exactly it does for them.
Ali Hyde, current vice-president of Downing JCR and CUSU LGBT+ Campaign president, remarked that the NUS seems of "complete irrelevance to most students" and said that students don't currently feel "there's a political vehicle for them".
Lara Parizotto praised the NUS for the "great research that they do", covering a wide range of issues such as access and period poverty. She noted, however, that "students are not being made aware of that research", undermining the organisation's efforts.
Several candidates also said that they would call for the the "militant social radicalisation of the NUS", as Khaled Labidi put it. Labidi, Keelan Kellegher and Thais Warren all promised to fight for a socialist NUS.
Another focus of the debate was the desire to eradicate careerism from the NUS. Claire Sosienski-Smith, current CUSU women's officer, said that she was "not interested in staying complicit" in a careerist NUS at the expense of asking the "difficult questions".
Meanwhile Labidi claimed that he would oppose the NUS "just being used to practise the dark arts of hypocrisy by wannabe MPs".
When asked by current CUSU President, Evie Aspinall, what the worst aspect of the NUS was and how the candidates would fix it, almost all agreed that the lack of fully-functioning democracy and coordination within the organisation, as well as it's irrelevance to the student body it represents.
When asked what the biggest issue facing students was, the mental health crisis and welfare – which had been brought up throughout the hustings – were cited by Joe Foye, who argued that student welfare should be a priority as mental health problems can "stop you living your life, not just getting a job".
Tonight also saw hustings for the positions of Part-time Executives for CUSU Students' officer as well as on their Access and Funding, Education, Ethical Affairs, Union Development and Welfare and Rights teams.
Lydia Devonport, a candidate for the position of the part-time executive for Access and Funding said that the University "has to do so much more to dismantle image that puts off working class applicants", an opinion that was echoed by other candidates.
Meanwhile the two candidates for Union Development, Edward Parker Humphreys and Liam Michael Plimmer, cited similar problems with CUSU as those identified by delegate candidates about the NUS saw, namely that student engagement is not as high as it perhaps should be. Parker Humphreys said "student engagement should be at the heart of what CUSU does."
Earlier this week, Shannon Bernard Healey withdrew his candidacy for NUS delegate. The candidates for Ethical affairs, Beth Bhargava and Finn Chapman, were unable to make the hustings. 
Voting for this year's delegates and CUSU Part-Time executives opens on Tuesday 30th October and closes on Friday 2nd November at 5pm.
Updated 10:18am, October 30th, 2018: This article was edited to note that Shannon Bernard Healey has withdrawn his candidacy for NUS delegate