Open letter urges Toope to support better pay in the higher education sector
The open letter was sent earlier this week by the Cambridge branch committees of UCU and UNISON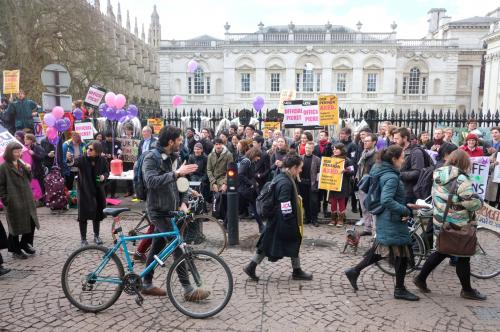 The Cambridge branch committees of the University and College Union (UCU) and UNISON, the UK's largest trade union, have sent an open letter calling on Vice-chancellor Stephen Toope to support their campaign for better pay in the higher education sector.
The open letter, sent earlier this week, marks the latest development in an ongoing campaign for higher pay for academic staff across the UK, which was among the issues highlighted in the industrial action which took place earlier this year.
The letter asserts that across the higher education sector nationally, according to the Consumer Price Index (CPI), "real-terms pay has dropped more than 12% since 2009." In order to allow staff to recover from this, the UCU has called for a pay increase of 7.5%, along with £1,500 for all staff.
The University Council for Educational Administration (UCEA), however, proposed a 2% increase, which the open letter claims represents "another pay cut" due to the inflation of living costs in the UK.
Cambridge UCU secretary Waseem Yaqoob told Varsity that Toope "should come out clearly and publicly against this wholly inadequate offer."
UCU and UNISON's open letter asks Toope to support "action to address the spread of precarious contracts and pay inequality."
---
Got a story for us?
Seen something you think Varsity should be talking about? Contact our News team at news@varsity.co.uk.
---
The letter asserts that "it is a sign of staff anger" at UCEA's offer, that the Cambridge branches of UCU and UNISON, representing more than 2,000 members between them, are currently balloting for strike action.
The current ballot, which opened on the 30th August, will close soon, in mid-October. It is primarily concerned with four key issues in the HE sector: low pay, the gender pay-gap, the casualisation of employment, and high workload.
According to a Cambridge UCU survey in 2016, staff at the University have a longer working week than the nationally agreed higher education hours, with an average of 52.8 hours work per week due to teaching and collegiate commitments.
In an email to staff, Toope said that he is concerned about the "low remuneration of UK academics and professional staff", citing staff pay as a "critical" issue if the University is to recruit and retain "the very best people."
For these reasons, Toope said, "the University recommended to UCEA that it should offer a higher uplift in basic pay than 2%", emphasising that Cambridge "remains committed to this" even if the national offer changes.
The open letter praised these "commendable words," but stressed the need for them to be "backed by actions."
Similarly, in response to Toope's email, Ivan Williams, the chair of Cambridge's UNISON branch, told Varsity that while he was "happy to hear" the remarks, "it is easy to say nice things, what is a lot harder is to make a difference."
Yaqoob told Varsity that the University is currently proposing extending performance-related pay and introducing "financial wellness" schemes "as a solution to low pay." Criticising these proposals, he said, "the suggestion that better domestic budgeting is the way forward is frankly insulting to overworked and underpaid staff."
The recent open letter addresses higher education concerns nationally, as well as within Cambridge. It asks Toope to "show leadership in reversing the trend of sacrificing staff pay and conditions in higher education budgeting."
Speaking about Toope's role in influencing national policy, Williams added that he believes the Vice-chancellor has the ability to "steer Cambridge University into a position where we are the benchmark for other Universities to strive to when it comes to pay and conditions."