Sir Ian McKellen donates to recent Cambridge graduate's fund for further study
Saskia Ross graduated from Cambridge this summer and is seeking to crowdfund the fees for their graduate degree at LAMDA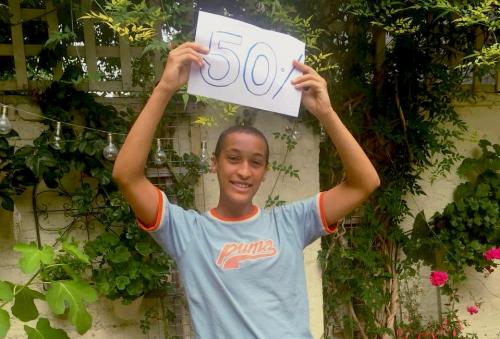 Saskia Ross, who was accepted onto the MFA Professional Acting course at LAMDA, has turned to the fundraising website GoFundMe, to raise part of the £24,000 needed to fund the degree.
Ross shared a photo of a letter sent to them from Sir Ian McKellen on Facebook. He wished them "all good luck with [their] studies" and said he hoped that "the enclosed is an encouragement". The letter included a cheque for £500.
Throughout their crowdfunding drive, Ross has so far sent 100 letters, and told Varsity they have plans to send 125 more. Ross reached out to McKellen with two letters, and a third handed to him at the stage door of his production of King Lear.
Ross told Varsity that to receive support from McKellen was "super cool", and that they are "incredibly grateful that established actors continue to support people entering the creative arts"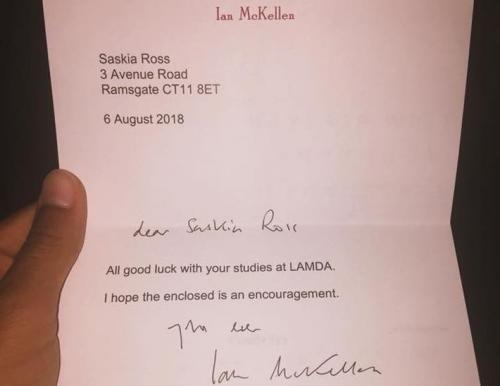 Ross was accepted onto the course in May, but was rejected from the LAMDA scholarship, which they had "believed would solve all of [their] financial ills".
When Ross asked LAMDA why they hadn't been awarded the scholarship, they cited the high number of applicants as a reason. Ross also said they discovered that most available scholarship funding at LAMDA "goes to undergraduates … and international students", which they said "is understandable because [international] fees are higher".
During their undergraduate years, Ross was an active member of the Cambridge theatre scene, and said they dedicated themselves "to widening participation and access into the creative arts (particularly theatre) for ethnic minority students".
Ross created the Cambridge BME Theatre Group, which provides a space for students of colour to share creative ideas in "a safe community of like-minded people". They also directed Cambridge's first ever BME Shakespeare performance.
Ross said that their theatre experiences at Cambridge mean they have "seen firsthand" how their effort towards improving access have "helped students of colour engage with and feel comfortable in theatre (including in the audiences)", whereas previously, they had "avoided auditions and show applications, feeling that they did not belong".
McKellen is an alumnus of St Catharine's College, where he read English Literature from 1958-61. During that time he appeared in 23 theatre productions and has since gone on to receive many acclaimed theatre awards, including BAFTAs and Olivier awards.
He has also starred in many high-profile films, perhaps most famously as Gandalf in The Lord of The Rings, and is now widely-recognised as a British cultural icon.
Ross' Go Fund Me page has raised £6,065 of their £10,000 goal at the time of writing, and Ross said they are "quite confident" that they will achieve their goal. They hope that "through working hard, applying for every grant under the sun, and the good faith and generosity of others, [they] will be able to continue [their] work".