Writer criticises Queens' and Trinity Hall for failing to pay guest speakers
Suhaiymah Manzoor-Khan said this emphasises "how underfunded JCRs are" and "how structurally disadvantageous this is"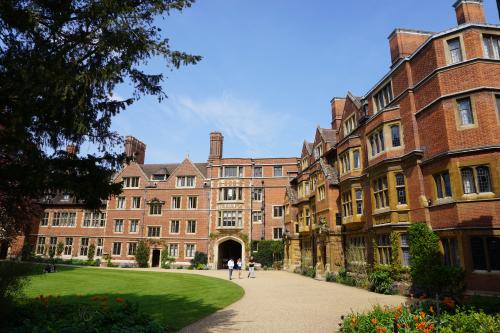 Writer and Cambridge alumna Suhaiymah Manzoor-Khan has criticised Queens' and Trinity Hall for not offering payment for her upcoming appearances at their women's dinners.
In a tweet from 23 July, Manzoor-Khan said that she was "excited" to have been invited to the events to "disrupt conversations in that space of erasure I experienced for 3 years."
She continued, however, that she was "utterly gobsmacked" that neither Queens' nor Trinity Hall "give their women's officers money to PAY speakers."
Manzoor-Khan studied history at Queens' College and is now a writer, speaker, poet, and playwright. Her work focuses on race, gender, Islamophobia, intersectionality, Eurocentrism and decolonisation, and is featured on her website The Brown Hijabi.
On Twitter, Manzoor-Khan emphasised that she did not hold either women's officer "personally at fault". Instead, she highlighted "how underfunded JCRs are" and "how structurally disadvantageous this is."
Manzoor-Khan told Varsity that, alongside writing, speaking at events is how she makes her income. While both Queens' and Trinity Hall's women's officers offered to cover her travel, dinner ticket, and accommodation, neither were able to pay for her speech.
"I am surprised that paying people for their labour – speaking which requires on expertise in certain areas, preparation time, experience... is really up for question," she said, and added, "Even the smallest venues I have spoken at usually offer a modest honorarium, nevermind halls of such vast wealth, patronage and privilege as Cambridge."
When asked, however, many JCR Presidents said that they did not typically pay their speakers, as they were often willing to appear on a voluntary basis.
Rebecca Horner, the Trinity Hall JCR President explained: "If there is sponsorship of or a donation towards an event, this can be used to cover expenses for a speaker, however often this will be not be sufficient to pay professional speakers' fees."
She continued: "The aim of the JCR committee is to ensure events are accessible to everyone, so wherever possible we aim to keep events for student societies free or at a minimum charge, so ticket sales do not enable the JCR Committee to have the budget to pay speakers' fees."
Queens' women's officer, Alex Ajioka, said that the inability to pay speakers was because the "JCR budget system is not transparent, and has little flexibility regarding late changes so applying for funding now is difficult."
Manzoor-Khan explained her criticism of the lack of pay by highlighting the implications this has for accessibility and representation at these events: "If the feminist society doesn't receive enough to cover speaker events/speaker fees... then the types of speakers it can invite will disproportionately be more well-off or secure, not those in more precarious financial situations" – more likely to be women of colour, she added.
She went on to suggest that the underfunding of JCRs "shows bias to the sorts of events/students that are valued/not," claiming that college JCRs "tend to get less funding than college boat clubs." Varsity received no response from either Trinity Hall or Queens' college to confirm that this was the case.
Ajioka said that she "fully supports Ms Manzoor-Khan's comments regarding the treatment of women and women of colour within the labour sphere.
"Women's labour is consistently under-recognised and underpaid, and this is endemic in wider society as well as a microcosm like Cambridge."