Council's divestment decision has been formally challenged – can it evade democratic scrutiny?
Analysis: Zero Carbon's formal review will likely be unable to prove that Council, which used a constitutional loophole to avoid a Regent House discussion, blatantly subverted democratic procedures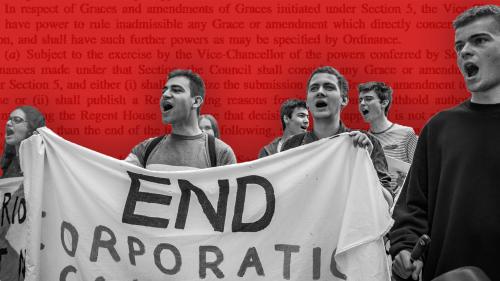 For months, the strength of University democracy has been central to the trajectory of the divestment debate, with University Council's response marked by stonewalling of calls for greater accountability and democratic practice.
Their decision last month against full divestment has placed a laser focus on the University's democratic provisions, and whether they are working.
Cambridge Zero Carbon announced yesterday it had requested a formal review of Council's decision, claiming that Council's failure to submit a 'capital-R' Report to Regent House – the University's primary governing body – to allow for discussion among members was unconstitutional, and that it stifled democratic debate.
Recap: What was Council's decision on divestment in June?
University Council's landmark decision on divestment, passed in an extraordinary meeting of Council, decided against any commitment to full (or partial) divestment, and rejected recommendations from its divestment working group that it eliminate all remaining indirect investments from tar sands and thermal coal, the most pollutive industries in the sector.
It also decided against adopting the recommendation by its divestment working group that it allocate 10% of its endowment specifically into Environmental Social and Governance (ESG) Funds, opting instead to hire an 'ESG officer' to be employed in the Investment Office.
The two student representatives on the Council, then-CUSU President Daisy Eyre and then-GU President Darshana Joshi, submitted notes of dissent to the decision at the time. A separate note of dissent was submitted by Council members Professor Nick Gay and Dr Alice Hutchings.
Yet their claim will likely not hold up to scrutiny. The University's constitution, called its Statutes and Ordinances, contains several loopholes which have enabled Council to contravene traditional democratic procedures, meaning they may not ultimately be mandated to produce a 'capital-R' Report justifying their decision in June.
The request for review does, however, highlight precisely how Council managed to maneuver within the University's existing by-laws in order to act against a pro-divestment Regent House Grace running counter to its interests – halting democratically-backed change.
How is Zero Carbon's review likely to pan out?
As University Council has final authority over the management of Cambridge's endowment in its role as charity trustee, Zero Carbon's review is likely to fall on deaf ears.
By setting up its divestment working group in response to a pro-divestment Regent House Grace, Council took the Grace as advisory. This meant they were not mandated by it, effectively making use of a constitutional loophole and operating within the bounds of constitutionality in its June 8th decision.
Ruling against the Council would severely damage the institution's credibility on an issue where skepticism of University democracy is already at the fore
Cambridge Zero Carbon cannot point to any particular clause in the University's statutes and ordinances which explicitly contradict Council's maneuvering. Therefore, the vice-chancellor is unlikely to side with the campaign, especially over the decision-making process of the Council he chaired. Toope doing so would severely damage the credibility of the Council, on an issue that has already brought scrutiny over the mechanisms of University governance to the fore.
By Toope agreeing to the terms of the review, it would also prolong institutional deliberation – and potential national attention – surrounding an issue on which the University is unlikely to depart radically from its current stance, given that its working group's recommendations fell in line with Council's adoption of 'considered divestment'.
Further deliberations in the short-term will not shift University's investment approach, and it is unlikely that the vice-chancellor believes that the divestment decision "representing" a deferred withholding of a Grace warrants formal action.
Zero Carbon's review also raised broader questions around flaws in the University's governance structures, noting to Varsity that, "we are simultaneously highlighting and critiquing the anti-democratic nature of Council's decisions". However, the purpose of a formal review is not to call into question ideological concerns. Any criticism of the University's governance structures on a fundamental level falls outside the bounds of reviewing a particular Council decision.
The review is indication, however, of a concerted effort underway to dispute the Council's decision by both student activists and some academics – in this case, by using official channels to question the Council's contortions in diverting the debate from Regent House and avoiding having to publish a 'capital-R' Report, thereby minimising accountability over its financial decision-making.
How did the constitution enable Council to contravene democratic checks?
The constitution only mandates for two polars: approving or outright rejecting the submission of a Grace. When Council authorizes a Grace, the motion is presented to Regent House, who can then accept it, making it official policy.
Explained: What is Special Ordinance A(i)7, the University regulation that Zero Carbon argues Council is in violation of?
Section 7(a) of the University's Special Ordinances lays out the procedure if the Council decides to authorise the submission of, or decide to reject a Regent House Grace, in which they must publish a 'capital-R' Report.
In full, the special ordinance says: "Subject to the exercise by the Vice-Chancellor of the powers conferred by Section 6 or by Ordinances made under that Section, the Council shall consider any Grace or amendment initiated under Section 5, and either (i) shall authorize the submission of the Grace or amendment to the Regent House or (ii) shall publish a Report giving reasons for its decision to withhold authorization and recommending the Regent House to approve that decision. If such approval is not given, the Council shall, not later than the end of the term next following, submit the Grace or amendment to the Regent House."
When Council refuses to authorise a Grace, it's mandated to publish a 'capital-R' Report – a specific type of announcement that must be followed by a Regent House discussion – in the Reporter explaining its decision and recommending that Regent House approve it.
In January, Council found an in-between: approving the Grace for full divestment, but with the caveat that they were not mandated by it. Instead, they approved it by taking it as advisory, writing at the time: "they recognize the strong feeling amongst those who have signed the Grace and they propose to respond by commissioning a report specifically into the advantages and disadvantages of the policy of divestment which the Grace supports, to be completed in so far as possible in line with the timescale envisaged in the Grace."
In realms in which Council holds executive power, it can claim to take Graces as only advisory
The problem deepens. There are no constitutional provisions to hold Council accountable for how they take the Grace into advisement.
The working group became the body charged with ensuring that the Regent House Grace was taken into consideration, however the relative opacity in its deliberations and its eventual recommendation of 'considered divestment' meant the question of whether the Regent House Grace had been dismissed or adequately considered was left unanswered.
The closest campaigners came to questioning how the working group was progressing was at the first open meeting with Vice-Chancellor Stephen Toope in March this year. "The point of constructing the working group is to ensure that there is a range of views", said the vice-chancellor, when questioned over fossil fuel industry ties to the group, before stressing that ethical considerations and student and staff opinion would be given substantial weight.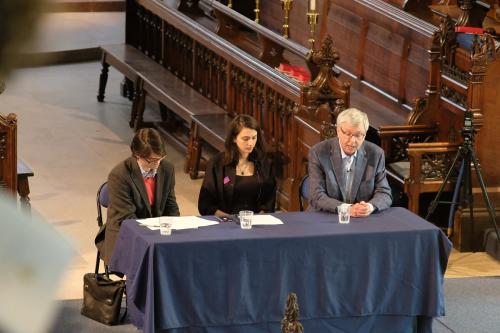 Yet when the working group report was eventually published, a key criticism from both campaigners and academics who signed an open letter condemning the report was that it had failed to accurately characterise their views – they were skeptical that they had been given adequate consideration.
As it stands, the constitution allows Council to take a Grace under advisement and ultimately make a decision that effectively acts in direct opposition to it, but isn't, in constitutional terms, a rejection.
From Regent House's perspective, any Grace they initiate that mandates an area that Council holds executive power over can be said to be taken under advisement, but with no means to scrutinise whether it has done so, or to challenge the process' outcome if it emerges in direct opposition to the Grace.
This brings us to our current situation: a final decision which effectively acts against the Grace, but no official means of challenging it. And it's entirely constitutional.
What issues with Cambridge's governance has this exposed?
The situation raises a broader question about the limits of Regent House in implementing change: While provisions are adequate most of the time, do the University's governance structures equip Regent House to push forward its decisions when their mandate runs counter to Council's interests?
The initiation and approval of Graces is vital to Regent House's capacity to act as a check on the Council, as well as to Cambridge's claim of democratic governance. Graces work by mandating action – failing which, the Council must at least be held accountable for its decision to act against it.
At present, both mechanisms have failed, due to vagaries and loopholes in the constitution which enabled Council to act against a democratic mandate, while still acting within the bounds of the constitution.
Keystone issues for campaigners have become increasingly focused on Cambridge's finances – an area over which Council holds the same executive power.
Council's ability to so effectively deflect Regent House's attempt to steer its endowment away from the fossil fuels sector and halt subsequent deliberation begs the further question: how might the University take advantage of constitutional loopholes in the future?
Varsity is the independent newspaper for the University of Cambridge, established in its current form in 1947. In order to maintain our editorial independence, our print newspaper and news website receives no funding from the University of Cambridge or its constituent Colleges.
We are therefore almost entirely reliant on advertising for funding and we expect to have a tough few months and years ahead.
In spite of this situation, we are going to look at inventive ways to look at serving our readership with digital content and of course in print too!
Therefore we are asking our readers, if they wish, to make a donation from as little as £1, to help with our running costs. Many thanks, we hope you can help!