Cambridge applicants from EU countries to pay home tuition fees in 2019
The announcement will likely abate prolonged financial uncertainty for students applying to Cambridge from the EU this year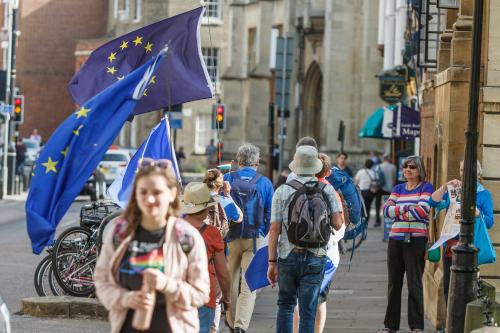 EU students enrolling in English universities in 2019 will be eligible for the same student loans and tuition fees as home students for the entirety of their degrees, UK Education Secretary Damian Hinds has announced.
Damian Hinds said today that he hopes the announcement will provide EU students with "clarity and certainty", adding: "students from the EU make an important contribution to the universities sector", and that "it is a testament to our system that so many students from abroad choose to come and study here".
The Welsh government has released an analogous statement, announcing that EU students starting at universities in Wales in 2019 will be treated the same as domestic students. Earlier this year the Scottish government made similar assurances.
The announcement by the Department for Education today follows demands from several university vice-chancellors for "urgent clarification" about the status of EU students beginning courses in autumn 2019. The Department for Education's decision promises, in the short term, to combat the uncertainty and anxiety surrounding post-Brexit university funding for EU students, though fee status changes for future applicants remains unclear.
Cambridge has the seventh-highest proportion of EU students of UK universities, with more than 2,500 EU students, who make up roughly 13% of the student population.
Trinity College Senior Tutor Professor Catherine Barnard said that the confirmation of EU tuition fee status gives students "the reassurance they need that they will continue to be eligible for financial support for the duration of their course". Fees for masters students from the EU will be similarly fixed to UK home fees for the 2019 cohort.
In 2017, Cambridge saw its lowest number of EU applicants since 2013, and its first drop in applicants since the 2011 tuition fee hike. The recent volatility in applications may be attributable to post-Brexit uncertainty surrounding EU tuition fees and immigration status.
The 2016-2017 Big Cambridge Survey found that 39% of EU students agreed with the statement, "without financial support I could not afford to continue with my studies", according to the CUSU International Students' Campaign (iCUSU). The campaign has said that it has been lobbying Cambridge to include international students in discussions of fees and bursaries.
Earlier this year, iCUSU, alongside Cambridge's Graduate Union (GU), signed an open letter calling for a second national vote on the deal struck in negotiations between the UK and the EU. Leo Paillard, chair of iCUSU when the open letter was signed, said, "the current iCUSU committee has been elected on a platform of defending EU/EEA/Swiss students' rights to education at Cambridge".
Paillard added: "the ability to travel and study abroad freely in the EU is a reciprocal and dearly valued freedom that we are committed to defend with our members".