Grudgebridge ends drinking society crusade as admin labels page a 'hate platform'
The page was taken down on Thursday, after an admin said it had become 'Clickbait'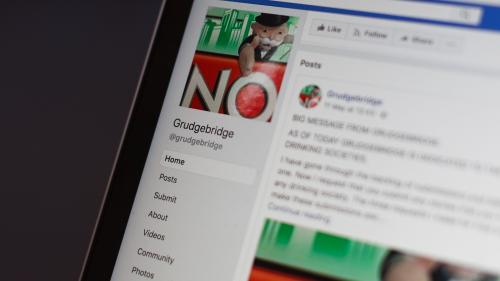 The controversial Facebook page Grudgebridge has announced it is "shutting down" today, as one of its administrators has called it "a hate platform" which "has no place in our University".
Following the announcement, the page was deleted entirely, before being restored by Facebook admins on Friday.
One of the administrators, Alfred Leigh, made his identity public in a Facebook post on the page, and argued that "the real problems aren't being solved" through the platform, and that he does "not wish to act as a bystander".
Leigh described the way in which submissions have become "a witch-hunt", with posts making anonymous allegations about a large number of different drinking societies and Cambridge political associations, including Cambridge University Conservative Association (CUCA) and Cambridge Universities Labour Club (CULC).
The page announced on Monday 11th May that it would be dedicated to exposing the behaviour of Cambridge's drinking societies, after a video of a Crescents event was leaked to the page, leading to Trinity Hall's all-male drinking society deciding to disband.
At the time of the change, Grudgebridge had six admins, according to Alfred Leigh. One administrator resigned shortly after the page announced its campaign earlier this month, claiming that their "safety is a concern".
Leigh, a student at Homerton College, told Varsity: "I think Grudgebridge is nonsense and should be treated as such."
The Facebook page, which had over 5000 likes, initially declared it was 'Clickbait', taking on the branding of the "surreal web-comedy" written, produced and performed by Alfred Leigh from this Friday to Sunday.
The branding was removed shortly after some Facebook users commented criticising him for promoting the show. He edited the post to say: "I have since changed the display picture as I understood it was inflammatory and of poor taste - I apologise for this."
Later on Thursday evening, the page appeared to have been taken down completely. The page was deactivated earlier this week to enable Facebook staff to conduct a content review, following complaints regarding submissions posted on the page. According to Facebook's regulations, an action to delete a page only becomes permanent after a period of 14 days has passed. A page and its contents can be recovered at any time up to this point.
Leigh claimed he has reached out to CUSU, his senior tutor at Homerton, and Vice-chancellor Stephen Toope regarding allegations of drinking society behaviour, as well as other issues raised by the platform. "It is a sad reality and I'm hoping for a strong response from the University," Leigh said.
In an open meeting on Tuesday 15th May, Toope, alongside Pro-vice-chancellor for education Graham Virgo, denounced "unacceptable" drinking society culture, noting that it was a "live issue" in a recent meeting of senior tutors.
Leigh said that "drinking socs are the tip of the iceberg", and has spoke about his awareness of the broader issues which are being highlighted through submissions to the page. "There are young people who are isolated, either in their mental health, by bullying or discrimination, or by being taken advantage of."
Updated 7.30pm, 2nd June 2018: This article was updated to include the fact that the Grudgebridge page has been restored, after its deletion on Thursday evening
If you have been affected by any of the issues raised in this article, the following organisations provide support and resources: