Cambridge court rules against student occupiers in eviction hearing
The court district judge sided with the University, ruling that they were "entitled to possession" of the premises currently being occupied by students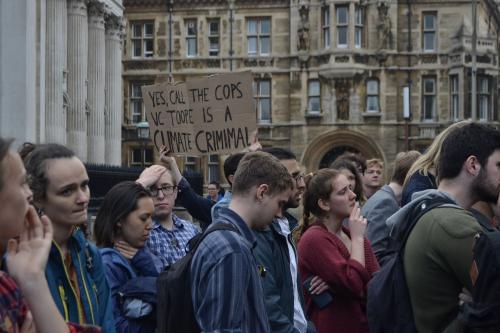 Cambridge county court has ruled that the seven-day occupation of Greenwich House, organised by Cambridge Zero Carbon, is a violation of property rights, and has ordered its repossession by the University in a court hearing this afternoon.
Judge Davies ordered that the defendants – 'persons unknown occupying land on the north side of Madingley Road, Cambridge' – must leave Greenwich House, following the University's legal representation arguing that "employees who would normally be working at those premises have been unable to access their working environment." Legal representation for the University also requested that the order be transferred to the High Court for enforcement purposes, which was agreed to.
Zero Carbon did not send representation to the hearing, though the judge noted that the occupants had been "appropriately served", as copies of the court order "were attached to the main doors of the property", as well as "inserted into the letterbox of the property", and were "handed directly to occupants".
The judge ruled that – given the witness statement sent by Emma Rampton, the principal administrative officer of the University – that the University is "entitled to possession of these premises."
The University's lawyers are now pushing for the verdict to be enforced by the High Court before the bank holiday weekend, proceedings for which may be started against trespassers if it is believed that there is a substantial risk of public disturbance or serious harm to persons or property.
A spokesperson for the Zero Carbon Society told Varsity the group will be "peacefully staying in Greenwich House". They added: "It is up to the University if they choose to use force. We will continue to express our right to democratic protest on a democratically supported issue.
"The verdict is up to the courts, we could not present a case for adjournment due to the massive financial power the University has over us as students.
"The desperation with which the University have pursued a court order to evict activists peacefully occupying Greenwich House shows how oblivious its management is."
A statement yesterday from Cambridge Zero Carbon Society criticised University management for having "refused to even engage with the students' just demands – before a single meeting or conversation, they have moved directly for accelerated court proceedings to evict students forcibly." During the hearing, legal representation for the University noted: "Two letters were delivered to the occupants requiring them to leave and they have not left".
The occupation of Greenwich House – a University administrative building which houses its research operations, finance, and public relations offices – entered its seventh day today. Occupiers had previously vowed that they would continue the occupation until the University agreed to the demands of "immediate commitment to full divestment from fossil fuels by the year 2022", and that no disciplinary action be taken against students involved.
The University has not yet said whether it plans to pursue disciplinary action against the organisers of, or participants in, the occupation.