Cambridge politics professor outed as FBI informant in Trump investigation
Professor Stefan Halper reportedly met with George Papadopoulos and Carter Page to uncover Russian links to the presidential campaign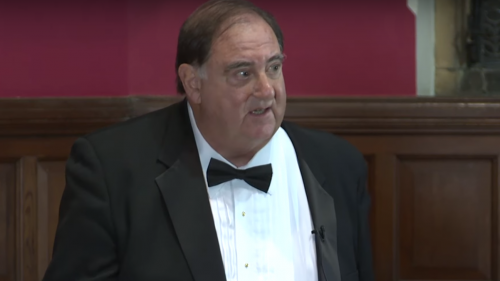 The intrigue surrounding Donald Trump's connections to the Russian government was directed at Cambridge last night as Professor Stefan Halper, a fellow of Magdalene College, was outed by American media as an FBI informant who was tasked with meeting with Trump campaign officials.
After the FBI received evidence that two campaign advisors had links to Russia during the 2016 US presidential campaign, Professor Halper, who was an advisor in the Nixon, Ford and Reagan administrations, met George Papadopoulos and Carter Page on behalf of the FBI.
The New York Times has reported that Halper paid for Papadopoulos to fly to the UK in September of 2016 to grill him on Russian attempts to undermine the Clinton campaign, after offering him $3,000 to write a 1,500-word research paper on a disputed gas field in the Mediterranean Sea, which fell under Papadopoulos' academic expertise. The Trump advisor feigned ignorance to Halper on the topic of Russian hacking into Clinton's email server despite being told of the events weeks prior to their meeting.
Reports are there was indeed at least one FBI representative implanted, for political purposes, into my campaign for president. It took place very early on, and long before the phony Russia Hoax became a "hot" Fake News story. If true - all time biggest political scandal!

- Donald J. Trump (@realDonaldTrump) May 18, 2018
Papadopoulos has since pleaded guilty to making false statements to FBI agents regarding contact with the Russian government in during his time on the Trump campaign.
Halper, who is reportedly good friends with former Trump campaign chief Paul Manafort, also met Carter Page, an advisor to the campaign until September 2016, in Washington, D.C. that year. The two last had email contact in September 2017, shortly prior to the expiration of a secret warrant to monitor Mr Page, according to The New York Times.
Trump tweeted on Friday about reports of an FBI investigation during the early stages of his campaign "for political purposes", but did not refer to Halper by name.
Halper also met Michael Flynn, a former national security advisor to Trump, when he attended the Cambridge Intelligence Seminar in 2014. He was reportedly alarmed by Flynn's closeness with a Russian attendee which prompted reports to US authorities by another person.
In December 2016, a month after Trump's election as president, he resigned from the Cambridge Intelligence Seminar (CIS), along with former MI6 chief and ex-Master of Pembroke College Richard Dearlove and historian Peter Martland, due to reports of funding by Russian billionaire Andrey Cheglakov. Halper said he stepped down due to "unacceptable Russian influence on the group."
Halper has been contacted for comment.