Syrian offer-holder launches fundraising campaign to study at Cambridge
Abdullah Kattineh needs to raise $27,000 to take up his place at Corpus Christi College next year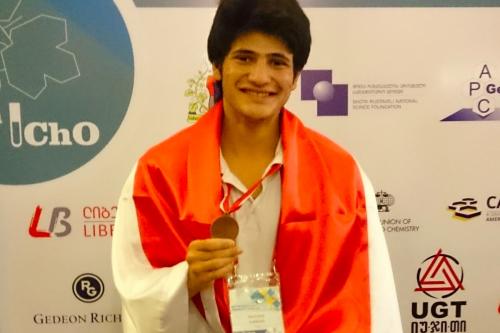 A Cambridge offer-holder from Syria has launched a GoFundMe campaign in order to raise money to cover his tuition and college fees.
Abdullah Kattineh has received an offer from Corpus Christi College to read Natural Sciences. However, due to Syria's deteriorating economic situation, his financial circumstances mean that he may not be able to take up his place. Kattineh said it was "devastating" that he could "lose such a priceless opportunity", noting that he didn't want finances to prevent him from "reaching [his] dream after all the hard work [he'd] done."
Kattineh needs to raise at least $27,000 in order to study in Cambridge. His annual tuition at the University would come to £30,000 pounds, with additional college fees of £8,715. International students are ineligible for tuition or maintenance loans from the British government.
Difficult personal circumstances made his University offer hard to obtain. Kattineh recalled that he would  "find the fridge nearly empty most of the time", saying that he would have "bread and tea for breakfast just to stop the hunger" so that he could "get back to my studies".  
His application for a Cambridge Trust Scholarship, which provides funding for talented students in financial need, was rejected. The Trust Scholarship has offered to search for other possibilities of funding. Although this rejection made him "doubt [his] abilities", Kattineh said that he was "now...very certain that I deserve the opportunity to study at Cambridge".
Kattineh hopes that studying at Cambridge will allow him to further pursue his interest in Chemistry, including searching for internships in the research field of Chemistry.  A bronze medalist at the 2016 International Chemistry Olympiad in Georgia, Kattineh also taught Chemistry to Olympiad students from his city; helping them "achieve incredible ranks" such as first place at the National Chemistry Olympiad Competition.
If successful in taking up his Cambridge place, he hopes to ask Dr Ben Pilgrim, a fellow at Corpus Christi, "for [the] opportunity to help him write chemistry problems for the Chemistry Olympiad competitions in the United Kingdom". Dr Pilgrim was head mentor for the UK team at the 2016 Chemistry Olympiad.
Although Corpus Christi College said that they do not discuss the details of "individual circumstances", they commented to The Tab that they "are aware of the financial difficulties that international students from difficult backgrounds may face". The College added that "in all cases" they seek to "offer as much assistance as is in our power".
Kattineh's crowdfunding campaign is also supported by the Cambridge Refugee Scholarship Campaign (CRSC), who shared a link to his GoFundMe on their Facebook page.
CRSC apologised for potentially misleading wording in their post, which may have implied that Abdullah Kattineh is a refugee, when he is in fact currently residing in Syria. CRSC also said that they plan to include a third eligibility criteria C, which applies to Kattineh and others, who are "residing in [their] country of origin or a third country", in which their "pursuit of education is hindered because of political and/or humanitarian crisis". Those with category C eligibility for a scholarship will also be required to have a "valid travel document that will allow you to apply for a UK Tier 4 Student Visa".
In response to Kattineh's campaign, the CUSU Access and Finance Officer, Olivia Hylton-Pennant published an open letter to the Pro-vice chancellor Graham Virgo. It calls on the University to provide Kattineh with a "full scholarship covering tuition and living costs' for the duration of his course. The letter also suggests that the University sets up ten scholarships for refugee students and asylum seeking students, which would be available every year from the 2019/20 academic year.