Trinity Hall flies the rainbow flag for the first time
In February, Trinity Hall was one of seven colleges not to raise the rainbow flag for LGBT+ month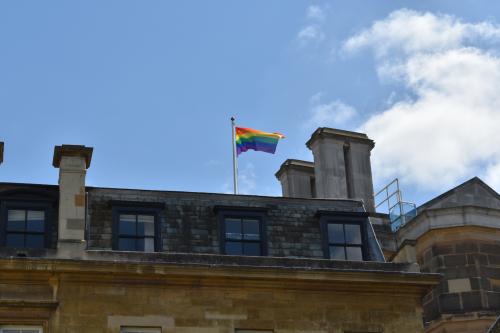 Trinity Hall flew the LGBT+ rainbow flag for the first time in its history today, following discussions between College MCR officers and the governing body. The flag-raising was commemorated with celebratory drinks and a group photo in the Front Court.
The College, one of the few to not fly the flag to mark the beginning of LGBT+ History Month in February, has raised it today to commemorate the International Day Against Homophobia and Transphobia (IDAHOT).
Trinity Hall was criticised in February when it joined St John's, Clare, Emmanuel, Queens', Clare Hall and Trinity in refusing to fly the rainbow flag on its main flagpole. Until Trinity Hall's governing body changed College policy in March, the College had a rule stipulating that it could only ever fly two flags: its own flag and the Union Jack.
Trinity Hall MCR LGBT+ officers submitted a proposal to the governing body in March which was "overwhelmingly approved by the fellowship", according to Joseph Reid, an MCR LGBT+ officer. Trinity Hall will now fly the rainbow flag every 1st February and 17th May.
Reid told Varsity that "raising the Pride Flag on IDAHOT shows that Trinity Hall is serious in its commitment to welcoming all students and staff regardless of their sexual orientation, their gender and in how they choose to express those identities.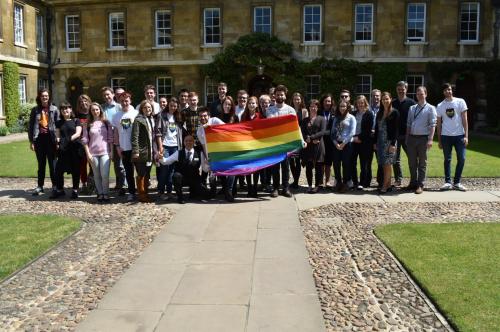 "It's about saying that all potential students and staff at Trinity Hall should feel at home here for who they are," he added.
Dr William O'Reilly, Trinity Hall's acting senior tutor, said that "I am extremely happy that all members of the community at Trinity Hall have worked to bring about this important event; Trinity Hall is committed to greater inclusivity and supporting and enabling an open college and university community where everyone is welcome and where we celebrate diversity."
"We take pride in flying the LGBT+ flag on IDAHOT day and invite everyone in the city who sees the flag flying on 17th May to join in the campaign to raise awareness of LGBT violations, in all countries."