Lola Olufemi elected to NUS National Executive Committee
The CUSU women's officer was elected as a councillor at the NUS Women Students' Conference today in Solihull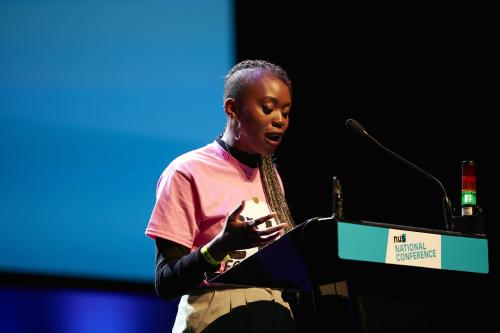 Today saw the election of Lola Olufemi, CUSU's women's officer, as a councillor on the National Union of Students' (NUS) primary scrutiny and accountability body, the National Executive Council (NEC).
Running unopposed, Olufemi received 97% of votes from attendees of the NUS Women Students' Conference. She will represent the Women Students' Campaign on the NEC, working alongside the NUS women's officer to consult with students' unions and scrutinise reports made by the NUS leadership.
After studying English at Selwyn, Olufemi became the CUSU women's officer. She helped organise the Reclaim the Night march, pushed for reform of the University's sexual misconduct disciplinary procedure, and advocated for the rights of trans women.
So excited to have been elected your NEC Women's Place. The women's campaign does legacy well and remains the most critical, engaged & radical part of NUS. Let's hope this spirit spreads! V excited to coordinate organising this year.

- Lola Olufemi (@CUSUWO) 11 April 2018
Besides representatives of the Women Students' Campaign, the NEC is made up of councillors from a number of liberation campaigns, sections, policy zones, and nations, ensuring that students from a diverse set of groups are represented.
The Women Students' Conference, which ran from yesterday to today in Solihull, saw elections for NEC councillor, a new NUS women's officer, and a new committee.
The new women's officer is Sarah Lasoye, who will take over from incumbent Hareem Ghani. Lasoye, who ran unopposed, is a Biomedical Science student at St George's University of London. Officers are the political leadership of the NUS and are responsible for implementing policy.
Lasoye and Olufemi will begin their terms on 1 July 2018.