Trinity's gender pay gap is biggest of all Cambridge colleges
New figures show women earn 73p for every £1 men earn at Cambridge's wealthiest college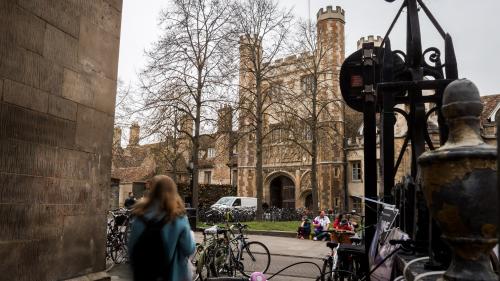 Newly-released data shows significant gender pay disparities between Cambridge's colleges, with Trinity College reporting the largest gap in its hourly median pay of men and women.
Women at Trinity are paid on average 27.2% less per hour than men, meaning across all its employees women earn 73p for every £1 that men earn.
Data collected from Cambridge's largest constituent colleges places Robinson College as a close second for its gender pay disparity, with a 24.1% gap, followed by Jesus College, with a median difference of 22.8% in hourly pay. Of those colleges which have released statistics on their gender pay gap, St. John's reported the smallest disparity in median hourly pay, at 2.9%.
Under new government regulations set out in the 2010 Equality Act, all organisations in Great Britain which employ more than 250 staff must publish data on their gender pay gap. Eleven Cambridge colleges have released figures on the gender pay gap, with many colleges having fallen under the threshold employee numbers.
The new data from colleges follows the University of Cambridge's own report last week, which showed a median hourly pay gap of 15% for staff employed by the University.
---
Got a story for us?
Seen something you think Varsity should be talking about? Contact our News team at news@varsity.co.uk.
---
The median gender pay gap is found by ranking all employees from highest to lowest paid, divided between male and female, then calculating the difference in hourly wage between the man and woman whose salaries are in the middle of the two categories.
The regulations require a percentage breakdown of men and women employed in each pay quartile. Pembroke College reported the largest proportion of men employed in its fourth, or highest-paying quartile: 68.8% of staff who received top salaries were men. Trinity and Robinson saw the highest proportion of women employed in positions in the bottom quartile for level of pay, with 89.3% and 85.7% respectively.
Speaking to Varsity, a spokesperson for Trinity College said: "Historically, more of Trinity College's cleaning staff have been women than men, which accounts in part for the percentage of women in lower paid jobs." They added that "college policy and processes are under review."
The data also includes mean gender disparities in pay, which range from an average difference in hourly pay of 20.5% for Robinson employees, to only 5% between men and women employed at Emmanuel College. The mean gender gap is calculated as the difference between the average hourly wage of women and men.
Trinity reported a significantly narrower disparity in mean pay than in median pay, as the mean hourly wage for women was 19.3% lower than for men – scoring just below the University, which reported an average pay disparity of 19.6%. The fact that Trinity's gender disparity in median hourly pay is significantly wider than the disparity in mean hourly pay suggests that more women are employed in lower-paid positions, while proportionately more men are in higher-paid roles.
Earlier this year, Varsity found significant variations in the average annual basic income of men and women across University schools, with the highest mean average gender pay gap in the School of the Physical Sciences at 20.7%, and the School of Humanities and Social Sciences at 18.6%.
Data on the gender pay disparities also included mean and median rates of bonus pay. Trinity was the only college which said that it does not provide bonus pay to its employees.
Is Cambridge doing enough to tackle gender disparities?
Write for Varsity and have your say. Just email our Opinion team with a 100-word pitch.
Most of the colleges reported an higher average bonus pay for men than women, though Emmanuel College proved an exception in paying women on average 22% more in bonuses. Every college except St. John's recorded that the percentage of women employees who received bonus pay was higher than the percentage of men.
The University released a report last week alongside the release of its gender pay statistics, in which in noted that "bonus payments are generally linked to salary and are therefore affected by vertical segregation".
The University has also announced multiple measures which it plans to take in order to reduce the disparity in pay, including the promotion of initiatives that address female underrepresentation at senior levels, and developing ways to help employees manage caring responsibilities. Cambridge's colleges may not see direct effects of these measures on their reported gender pay disparities, as they hire and pay their employees independently of the University.