Stephen Hawking dies in Cambridge, aged 76
The former Lucasian professor of mathematics died at his home in the early hours of Wednesday morning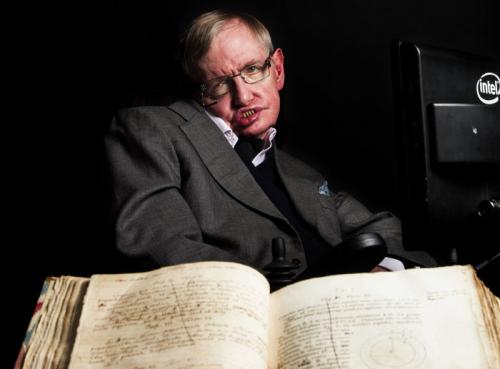 Stephen Hawking, cosmologist and theoretical physicist, has died at his home in Cambridge, aged 76.
The Gonville & Caius fellow, who was Lucasian professor of mathematics at the University of Cambridge until 2009, died in the early hours of Wednesday morning.
In a statement, his children said: "We are deeply saddened that our beloved father passed away today. He was a great scientist and an extraordinary man whose work and legacy will live on for many years.
"His courage and persistence with his brilliance and humour inspired people across the world. He once said, 'It would not be much of a universe if it wasn't home to the people you love.' We will miss him forever."
The College flag is flying at half mast today in tribute to Professor #Hawking. A book of condolence will be opened in the Porters' Lodge for all who wish to pay tribute. The College sends its condolences to Professor Hawking's family.

- Gonville & Caius (@CaiusCollege) 14 March 2018
In a tribute, Gonville & Caius, where Hawking was a fellow since 1965, wrote: "While admirers around the world celebrate Professor Hawking's brilliant mind and ability to popularise the most complex scientific ideas, at Caius he will always be 'Stephen' – the man whose wicked sense of humour enlivened High Table dinners and saw him spinning uproariously around Hall in his wheelchair to the strains of a waltz at a College party."
Master of Gonville & Caius, Sir Alan Fersht, who met Hawking in 1965 while a student at the college, has released a video tribute. He spoke of Hawking's life, calling him"the most famous scientist in the world, without doubt" with "quite a wicked sense of humour".
Hawking suffered from amyotrophic lateral sclerosis (ALS), otherwise known as motor neurone disease, with which he was diagnosed aged 22 and given only a few years to live.
A tribute video posted by the University todayUniversity of Cambridge
Born in 1942, he completed his undergraduate course at Oxford before heading to Trinity Hall, Cambridge, for his postgraduate study in 1962.
In 1974, he first published his theory of black hole radiation, now known as Hawking radiation. Just weeks later, he was elected as a fellow of the Royal Society at the young age of 32.
His book, A Brief History of Time, published in 1988, sold ten million copies and stayed on The Sunday Times bestseller list for 237 weeks.
Hawking established the Centre for Theoretical Cosmology at the University of Cambridge in 2007, where he became director of research.
Late last year, Hawking's PhD thesis, Properties of Expanding Universes, was published on the University's website, which then crashed due to unprecedented demand.
The University has published a full obituary on its website